Friday/weekend blog
Below (in blue) is an article I've written for a South Korean newspaper. It doesn't really say anything new. It's more like a summary of the current situation:
June and July 2023 were entertaining months for anyone who is interested in whether human activity is causing catastrophic and irreversible changes to the Earth's climate. On 27 July 2023, UN Secretary-General, Antonio Guterres warned us that: "The era of global warming has ended; the era of global boiling has arrived." However, just a few days later, Professor Jim Skea, the newly elected head of the Intergovernmental Panel on Climate Change (IPCC), warned that apocalyptic messaging merely "paralyses" the public and fails to motivate them to protect the planet. Furthermore, he said that the world warming 1.5°C above pre-industrial levels, to which the 2015 Paris Agreement pledged to limit global temperature rises, was "not an existential threat to humanity". But during a conference in South Korea on 26 June 2023, the 2022 Nobel prizewinner for Physics, Dr. John Clauser, criticized the IPCC for spreading misinformation and stated, "I don't believe there is a climate crisis", "in my opinion the IPCC is one of the worst sources of dangerous misinformation" and added that the world is "literally awash, saturated, with pseudoscience, with bad science, with scientific misinformation and disinformation".
Clearly, UN Secretary-General Antonio Guterres, Professor Jim Skea and Professor John Clauser can't all be right. So, what is really happening? Are we headed for Antonio Guterres's climate apocalypse as the earth boils? Are human activities causing changes to our climate to which we can adapt as suggested by Professor Jim Skea? Or can we relax as changes to our climate are just part of the natural cycle of warming and cooling which has gone on ever since the Earth existed and will continue for millions more years as proposed by Professor John Clauser?
There are some things we know. For example, analysis of ice cores and studies of geology and sea bed sediments have shown that for at least the last 400,000 years, the Earth has experienced four major ice ages and thus four much warmer interglacial periods: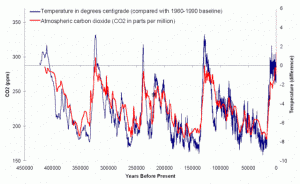 (left-click on images, then left-click again to see more clearly)
Furthermore, there is strong evidence that these ice ages and interglacials are driven by changes in the Earth's orbit around the sun – which have been called 'Milankovitch Cycles' after Mulan Milankovitch the Serbian mathematician, astronomer, climatologist and geologist who is credited with discovering them: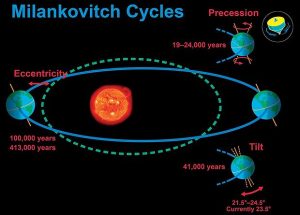 We also know that atmospheric CO2 levels have risen over the last 100 or so years from around 300 parts per million (ppm) to about 415 ppm. Climate catastrophists like to warn us that these increasing levels of atmospheric CO2 are heating the planet. But atmospheric CO2 levels have been as high as 7,000 ppm around 550,000 years ago and the planet's temperature was about 12°C higher than today,: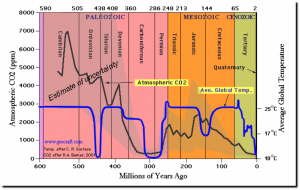 Yet the Earth didn't boil and life continued to evolve and thrive. Moreover, many farmers growing crops in greenhouses instal CO2 generators to bring CO2 levels up to around 1,000 ppm as that is considered optimal for plant growth. Moreover, studies by NASA satellites have shown that increasing CO2 levels are causing a greening of the Earth. Furthermore, we know that were CO2 levels to fall to below 250 ppm, this would devastate agriculture and lead to mass starvation.
As for Antonio Guterres's claim that "The era of global warming has ended; the era of global boiling has arrived". We only have reliable measurements of the Earth's temperature since the end of the 1970s when satellites measuring temperatures were first launched. Before then, there were only reliable temperatures measurements in the USA, Northern Europe and Australia. Estimates of global temperatures before the era of satellites are mostly based on computer models. However, we do know from contemporary newspaper reports that the 1920s and 1930s were exceptionally hot in the United States and in some other countries even though atmospheric CO2 levels were only around 310 ppm. These temperatures were so high that the world's leading climate scientists predicted at the time that the polar ice caps would melt and many coastal cities and areas of low-lying farmland would be flooded:
These dire predictions didn't actually happen because in the 1960s and 1970s, the Earth cooled so much, even though atmospheric CO2 levels were still rising, that the world's leading climate scientists predicted the start of a new ice age:
This new ice age would lead to crop failures, starvation and wars as countries fought over diminishing food stocks. The situation was so serious, that 42 climatologists wrote a letter to the then U.S. President, Richard Nixon, warning of the coming disaster: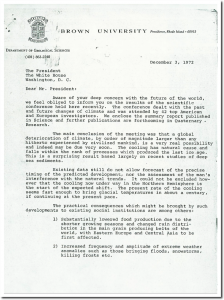 and the CIA was even commissioned to write a report on the likely consequences of the coming ice age:
This didn't happen either as by the 1980s the Earth's temperature had started to warm again till about 2002. Then there was a pause from about 2002 to 2014 and since 2014, there has probably been some warming. Though this warming since the start of the 1980s shouldn't be surprising as the end of the 1970s was the coldest the Earth has been for the last 120 years.
If we look at just 2023, it's true that there has been a heatwave in the Southern U.S. States, in Mediterranean countries and in parts of China which is perhaps why Mr Guterres started talking about 'global boiling'. However, the U.S. heatwave followed more than 260 days of below average temperatures. Moreover, at the same time as some countries experienced a heatwave, record cold spells hit Northern Europe, parts of Eastern Australia and South Africa where unusually it snowed. In addition, there were record levels of rainfall in South Korea and parts of China. As for the heatwave affecting the Southern United States and the Mediterranean, this seems to have been caused by a shift in the jetstream linked to a weather phenomenon called El Niño and not by any increase in atmospheric CO2 levels due to human activity.
Perhaps, there are just a few more details to add. The climate catastrophists warn that a climate crisis will cause massive loss of life. Yet the number of people dying in climate-related disasters has fallen from around 480,000 per year in the 1930s to fewer than 25,000 a year by the 2020s: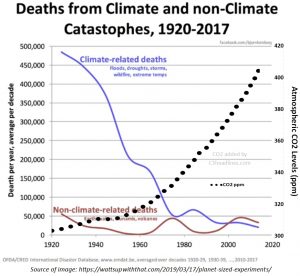 The climate catastrophists warn that a warming Earth will devastate agriculture, yet yields per hectare of crops like potatoes, bananas, maize, rice, wheat, soybeans and cassava have risen almost every year for the last more than 60 years: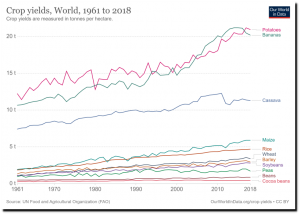 The climate catastrophists warn that climate change will plunge millions into poverty, yet the percentage of the world's population living in extreme poverty has fallen from about 80 percent a hundred years ago to below 20 percent now:
The climate catastrophists warn that changing climate will lead to earlier deaths, yet the average life expectancy has shot up from less than 40 years a hundred years ago to over 70 years now:
Furthermore, the 1920S and 1930S warming, the 1960s and 1970s cooling, the 1980s and 1990s warming, the 2002 to 2014 pause and then the subsequent last ten years of warming in spite of 120 years of rising atmospheric CO2 levels suggest that there is no real link between atmospheric CO2 levels and the Earth's temperature.
That brings us back to the question about who was right about our climate – UN Secretary-General Antonio Guterres, the IPCC's new boss Professor Jim Skea or 2022's Nobel Prize-winner Professor John Clauser? At the moment, it looks like if you want reliable information about the Earth's climate, it's Professor John Clauser whom you should consult.