Friday/weekend blog
It seems that we plebs weren't frightened enough by the supposed threat of 'Global Warming' nor by 'Climate Crisis' nor by 'Climate Emergency' nor even by 'Climate Breakdown'. So, our private-jet-setting, climate-conference-attending, one-world-government rulers have come up with a new name for weather to browbeat us into giving up our lifestyles and our freedoms. The aim of this new name is to prepare us for their car-free incarceration in just our local area (for us, not them), 15-minute cities (for us, not them), poorly-heated homes (for us, not them), rationed food (for us, not for them), flight-free holidays (for us, not for them) and climate lockdowns (for us, not them). Yes, apparently the Earth is heating up so much that we're now into the era of 'Global Boiling'.
Here's a quote (in red to reflect the catastrophic future awaiting us) from just one of this week's hyperbolic, hyperventilating warnings. This particular gem is from The Independent:
The warning lights have been on for weeks but now it is official: July 2023 is set to be the hottest month on record – and possibly in 120,000 years. The new global mean temperature – the overall reading if you could stick a thermometer at every location on Earth – was confirmed by scientists at the European Copernicus Climate Change Service and World Meteorological Organisation on Thursday. Copernicus discovered that up to 23rd July, Earth's temperature averaged 16.95 Celsius (62.5F), giving scientists enough data to declare a record before the month ends.
"Climate change is here. It is terrifying. And it is just the beginning," United Nations Secretary-General Antonio Guterres said on the findings. "The era of global warming has ended; the era of global boiling has arrived."
On reading this nonsense, I decided to do something very old-fashioned – check the actual temperature figures. Here's the latest satellite data for what we're told is the Earth's average temperature: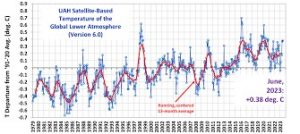 There are three points I'd like to highlight:
Point 1: The 2023 temperatures up till the end of June 2023 have been well below the peaks of 1998, 2011 and 2018. This rather suggests that 2022 was not a record hot year and that 2023 isn't going to be one either. So much for 'Global Boiling'.
Point 2: This temperatures are taken from satellite readings. Looking at the chart above, it does seem that the Earth is warming just as the climate catastrophists claim. However, temperature-measuring satellites were first launched in the mid 1970s and results regularly reported by the end of the 1970s. As I hope you know, the Earth's temperatures cooled so much during the 1960s and 1970s that there was agreement among the world's leading climatologists that we were heading into a new Ice Age:
So serious was the situation, according to these experts, that they wrote a warning letter to the then U.S. president, Richard Nixon:
And the CIA was even commissioned to write a report in which the CIA predicted Global Cooling would lead to crop failures, famine, mass migrations to avoid starvation and wars as countries fought over ever-diminishing food stocks:
The end of the 1970s was the coolest the Earth has been in the last 100+ years. So, it's hardly surprising that the Earth has been warming since then.
Point 3: These graphs are always presented as a variation from an average. This makes any changes look rather dramatic. Here's a typical 'be afraid, be very afraid' chart used by the media: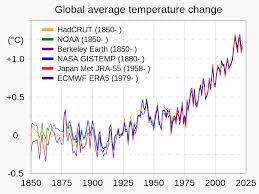 But if you drew a graph of the actual change in the Earth's average temperature, it would look something like this:
And, just to finish off today's blog, here's a BBC weather chart announcing a heatwave in 2019: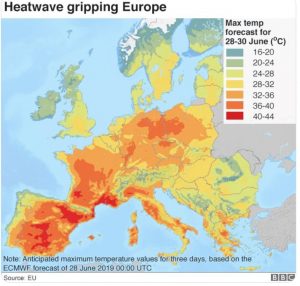 And here's a chart from the BBC announcing a similar heatwave in 2023: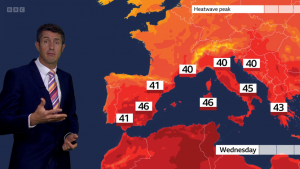 Can you spot the difference?
It's almost as if there's a concerted effort by governments and the mainstream media to terrify us: