Wednesday/Thursday blog
Apologies if you already knew about this. But I guess I'm a bit slow in keeping up with things as I've just found out about this.
It appears that around the time of the 2021 Glasgow Cop26 climate junket, Sky News, working in collaboration with the Behavioural Insights Team (BIT) also known as 'The Nudge Unit', produced a report titled: "The Power of TV: Nudging Viewers to Decarbonise their Lifestyles"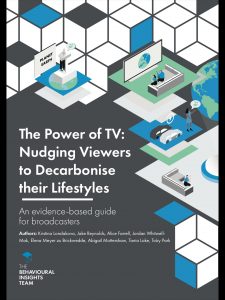 Reading through the report, it would seem that Sky News decided to join the BBC and much of the mainstream media by abandoning silly, old-fashioned ideas like trying to accurately report the news and instead decided to become a PR and propaganda department for the climate catastrophists and the Just Stop Oil fanatics.
But rather than me making a judgement on what Sky News are up to, here's (in blue) how Sky explains its important new mission:
Sky calls for new era of collaboration amongst broadcasters to help consumers to decarbonise their lifestyles through on-air content

Research from Sky and the Behavioural Insights Team (BIT) across six European countries reveals 7 in 10 consumers are willing to change their behaviour

Report shows that TV has power to encourage consumers to decarbonise with 1 in 3 having changed their lifestyle because of content seen on TV
'Seventy per cent of people across Europe are willing to change their behaviour to address the climate crisis according to research published today by Sky and the Behavioural Insights Team (BIT).'
'Using behavioural science techniques, Sky and BIT set out ten new behavioural science principles to guide broadcasters on helping their viewers to take action. The study develops a clear role for content creators and broadcasters to inspire green behaviours from their viewers, as well as revealing data on consumer attitudes to climate change.'
'It comes at a critical time as experts now widely accept that we must shift the behaviour of millions of people to deliver on our collective net zero goals.'
Dana Strong, Group Chief Executive, Sky, said: "At Sky we have set out our pathway to achieve net zero carbon, but we know this alone will not be enough. Through the content that we bring into our customers' homes we believe broadcasters have a clear role and responsibility to encourage lifestyle changes that address the climate crisis. We're publishing these research results in full as an open tool for content creators and broadcasters. This means that for the first time we have empirical evidence demonstrating how the creative industries can work together to deliver the behaviour change required to meet our net zero ambitions."
David Halpern, CEO, Behavioural Insights Team, said: "Broadcasters like Sky have a unique role in fostering behaviour changes that are essential to tackle climate change. Our new report finds not only that people's behaviours and attitudes are significantly shaped by the media they consume, but also that viewers expect and encourage broadcasters to do more to educate and inspire viewers to do their bit for the environment. We hope this report will provide broadcasters with actionable and evidence-based insights on how they can do their bit to avert the climate crisis."
Mark Strong, actor and Executive Producer of Sky's Temple, said: "Television has always had the power to change opinions and effect real world change in a meaningful way. That's why, more than ever, Drama creators now need to put climate crisis storytelling front and centre in their work. To get across these crucial messages, it's important that storytellers create natural, organic plots which depict the real-world impacts of the climate crisis on character's lives – and showcases actions which we all can take. I feel proud that our show, Temple, has tried to do this by including climate activism as a central storyline in the new series."
If I remember correctly Sky News used to have, and may still have, what they called "The Daily Climate Show". It would seem that this was just a spewing of climate-catastrophist propaganda to 'nudge' us into changing our carbon-guzzling behaviour rather than a serious attempt to report actual climate news.
You have been warned.
As for me, I've even given up on GB News as with every day it becomes more like a pound-shop version of the BBC. Instead I've started to watch Julia Hartley-Brewer, Mike Graham and Kevin O'Sullivan on Talk TV as they have dared openly say that they believe the whole catastrophic climate change cult is a load of nonsense without any scientific backing.