Friday/weekend blog
The Captain Tom Foundation
I wanted to write about the Captain Tom Foundation which has featured so prominently in the press this week
First let me make it clear that the Captain Tom Foundation (Charity number: 1189808) is a separate charity from the one which raised £38.9m and handed this over to the Association of NHS Charities (registered charity number 1186569). The Foundation was established by the late Captain Sir Tom Moore and his family, shortly after he completed his record fundraising objective for the Association of NHS Charities.
The Captain Tom Foundation hit the news due to the building of what I believe was meant to be an administrative office, which miraculously also seems (according to the Daily Mail – see link below) to have contained a 50ft by 20ft pool house with changing rooms, showers and toilets.
https://www.dailymail.co.uk/news/article-12265543/Captain-Tom-Foundation-STOPS-taking-donations-council-orders-daughter-tear-illegal-spa.html
But I had a bit of a problem. The latest financial accounts I could find were for the financial year 5 May 2020 to 31 May 2021. So, that's quite a while ago and not terribly useful.
However, I did notice a few things looking at the 5 May 2020 to 31 May 2021 financial accounts:
Firstly that two members of Captain Tom's family were trustees of the Foundation
In the period mentioned, from what I could see, the Foundation raised £1,058,676
In the same period, it paid out (from what I can see) £160,000 in four grants of £40,000 to the Willen Hospice, MIND, the Royal British Legion and the Helen & Douglas House
While paying out £160,000 to four charities, the Foundation incurred £162,336 of management costs and £37,097 in administration and governance
£695,89o was retained for future use
In the summary of the charity on the Charity Commission website (link below), the Foundation seems to claim that it used £369,433 for 'charitable activities'. These 'charitable activities' included the £160,000 in grants. But they also included £162,336 in management costs, £6,542 in office costs, £8,280 in information technology and £32,275 in governance costs. So, as far as I can see – and I ain't no accountant – just £160,000 of the £369,433 supposed 'charitable activities' were real grants to real charities and the rest – £209,433 – was used for management and administration.
https://register-of-charities.charitycommission.gov.uk/charity-search/-/charity-details/5161126/charity-overview
For legal reasons, I would never suggest that there is anything amiss here. But when researching and writing my 2015 book – THE GREAT CHARITY SCANDAL – I found many charities which seem to get confused between the difference between what most of us would consider genuine 'charitable activities' and what most of us would consider management salaries and administrative costs.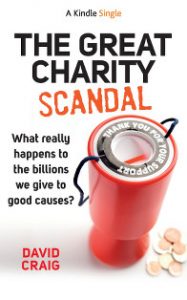 An out-of-control monster?
There are over 200,000 registered charites in Britain supposedly regulated by The Charity Commission for England and Wales and local regulators in Scotland and Northern Ireland. I believe that there are so many charities that the (IMHO) useless regulators haven't a clue what's really going on. But then, when you look at other supposed regulators – Ofwat, Ofgem and Ofcom – all you'll see is incompetence, bungling, bureaucracy, arse-covering and greed.
Meanwhile, one of the fastest routes to getting rather rich in Britain nowadays seems to be to set up a charity and then pay yourself a huge whack for running it.
One of the most egregious cases I came across was a 'charity' which paid around £41,000 in charitable activities in the year I looked at while paying companies owned by its three founders around £90,000 each in 'consultancy fees'. Evidently the charity regulator saw nothing odd about this arrangement. Similarly, I found many other 'charities' where the rewards the founders paid themselves and family members seemed rather generous compared to the modest amounts they used for what I would consider as real 'charitable activities'.
The Daily Mail recently reported that 'the Charity Commission turned down an application from the Captain Tom Foundation in 2021 to employ mother-of-two Mrs Ingram-Moore as chief executive on a £100,000 salary. It ruled that the income, was 'neither reasonable not justifiable'. Businesswoman Mrs Ingram-Moore was later allowed to act as interim chief executive on an £85,000-a-year salary, on a three-month contract for a maximum of nine months. A new chief executive took over in June last year.'
https://www.dailymail.co.uk/news/article-12265543/Captain-Tom-Foundation-STOPS-taking-donations-council-orders-daughter-tear-illegal-spa.html
Another game played by many charities is to inflate the amount of money they actually use for real charitable activities. For example even some of our best-known and most loved charities have a tendency to shove administration and other costs into the category of 'charitable activities' to make it look like they're using a lot more of our money for 'charitable activities' than is actually the case. One of the most respected charities in Britain puts the £4m-£5m cost of administering its membership scheme into 'charitable activities' rather than into 'administrative expenditure'.
The Charity Commission claims that £9 out of every £10 we give to charities is used for 'charitable activities'. But according to my calculations almost half of the billions our 200,000+ charities rake in every year never gets anywhere near those it is supposed to help. However, many charity bosses seem to have quite enviable lifestyles and those running international charities can usually be found near the front of the plane enjoying the food, drinks and comfort that most of the people donating to the charities could never afford.