Wednesday/Thursday blog
The laughing Chinaman
Here's a very happy Chinaman: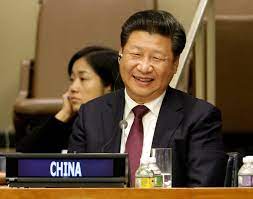 He's directly responsible for over 7 million deaths from the Chinese Wuhan lab-leaked plague. Though, if you add in all those who died from being unable to asscess medical care for other conditions, all those killed by the 'safe' and 'effective' vaccines and all those whose businesses and lives were destroyed by the lockdowns, perhaps the death toll is nearer 20 million?
But this guy is laughing. Why? Because he just got away with mass murder. Nobody in the Third  World dares criticise him as many countries there are victims of Chinese debt colonialism. And nobody in the developed world dares criticise him because with its population of 1.4 billion, including a rising middle class of about 500 million, China is a key export market for the larger Western companies and so nobody wants to upset Mr Xi Pinpong.
Let's remember how we were lied to
While everyone has been treading on eggshells to avoid any criticism of China, I thought it might be useful to trace the timeline of the start of the Chinese lab-leaked plague to remind us of the criminal dishonesty of the corrupt Chinese government.
Realising that there was a new infectious disease spreading, the Chinese Communist Party banned all internal domestic travel by the end of January 2020. However, the Chinese government has been accused of putting pressure on the World Health Organisation (WHO) to refrain from recommending international travel restrictions till the end of March 2020 – a full two months after China's Covid lockdowns. At the opening of the WHO's Executive Board meeting on 3 February 2020, the WHO's chief, Ethiopian Tedros Adhanom Ghebreyesus, was quoted as saying: 'There is no reason for measures that unnecessarily interfere with international travel and trade. We call on all countries to implement decisions that are evidence-based and consistent. The WHO stands ready to provide advice to any country that is considering which measures to take'.
In Europe, the plague first spread to Northern Italy as there are a lot of supposedly 'Italian' (particularly fashion) companies there actually owned and staffed by Chinese. So there were a lot of people travelling between China and Italy. From Italy, the plague quickly spread throughout Europe.
When the USA under President Donald Trump did start to advise against travel to or from China, the Chinese Foreign Ministry spokesman, Hua Chunying, criticised the U.S. travel advisories saying: 'The U.S. government hasn't provided any substantial assistance to us, but it was the first to evacuate personnel from its consulate in Wuhan, the first to suggest partial withdrawal of its embassy staff and the first to impose a comprehensive travel ban on Chinese travellers'. And, of course, leading Democrats and most of the U.S. press accused Trump of being a 'racist'.
On 11 March 2020, the WHO belatedly declared Covid a global pandemic. But by that time the number of cases globally has grown thirteen fold. By then, according to the WHO's own website, more than 118,000 cases had been reported in over 100 countries and over 4,000 people had died. But it wasn't till 27 March 2020 that Chinese President Xi Jinping agreed to limit international flights from China. China's Civil Aviation Administration announced that: 'ninety percent of international flights would be temporarily suspended and the number of incoming passengers cut from 25,000 a day to 5,000 a day'. But by then it was too late as Covid had become a global crisis. By the end of April 2020 the U.S. had lost around 60,000 lives and Italy, Spain, France and Britain around 20,000 each. Worldwide, there were over 200,000 deaths and that was doubling every two weeks.
What about the Ethiopian?
Here's the big boss of the WHO, Ethiopian Tedros Adhanom Ghebreyesus, with his Chinese BFFL: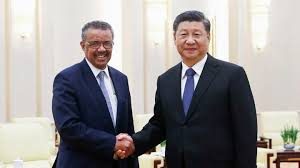 I'm sure Tedros is a wonderful human being who loves dogs and children and whose favourite film is The Sound of Music. But some people, cynical people, might think he's a worthless, corrupt, self-serving, money-grabbing, incompetent bureaucrat who knowingly aided and abetted Xi Pingpong's mass murder in order to ensure China's support for his own continuation in the wonderful WHO top job. After all, despite his catastrophic mishandling of the lab-leaked Chinese plague pandemic, in particular his refusal to announce a pandemic and his refusal to propose an international travel ban, in May 2022 our friend Tedros was re-elected to a second very lucrative five-year term as WHO boss. And he would never have got that without Chinese support.
Anyway we're not allowed to criticise Tedros as he's more than suntanned and so any criticism would be 'racist' and 'neo-colonialist' and 'white-supremacist' and suchlike.
And so there is a deafening silence amongst world leaders and the media about the seemingly minor matter of between 7 million and 20 million unnecessary deaths caused by the laughing Chinaman and his Ethiopian chum.
The Wuhan Song
And for any new readers who haven't seen it, here's a video I made three years ago about the Chinese lab-leaked plague at the time when we were constantly being told it came from the Wuhan 'wet market' and any suggestion it came from a lab leak were condemned as psychologically deranged conspiracy theories: