Tuesday/ Wednesday blog
Regular readers will know that my book THERE IS NO CLIMATE CRISIS has recently been published in South Korea: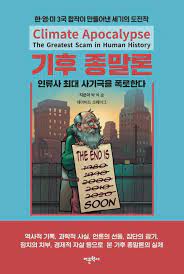 To publicise the book I have tried to write articles based on the book for Korean newspapers. This is quite difficult as I don't know anything about South Korea. However, last week one of these articles was published in a South Korean newspaper and I've just sent another proposed article to my Korean translator. Although this is targeted at South Korean readers, it perhaps does give a useful summary of the economic damage our rulers are wreaking on us in order to fight the (imaginary) threat of supposed man-made climate change.
Here's my proposed article:
Don't let South Korea be crippled by China's secret weapon
by Seok Pak and David Craig
Most people have realised that China with its 1.4 billion population intends to become the world's leading power. And many observers have commented on the ways China is using to usurp American dominance. Some of these techniques are detailed in a book Unrestricted Warfare by two Chinese military strategists Qiao Liang and Wang Xiangsui. The book explores strategies that a militarily and politically disadvantaged nation like China might take in order to successfully attack and defeat a geopolitical super-power like the United States without actually going to war.
Of course, China is building a massive military. But it is also trying to overtake the West, and particularly America, in many other ways. For years China has been stealing and copying technology developed by Western companies. Chinese companies have spent over $11 billion buying shares in 25 port projects in 18 countries on all continents as part of China's Belt and Road initiative. Also as part of its Belt and Road policy, the Chinese government and Chinese companies have pushed several Third-world countries into a new form of debt colonialism. These countries have been encouraged to take massive loans from China at extortionate rates of interest and, when they have defaulted on their interest payments, they've had to cede control of assets like ports, airports and agricultural land to China.
Furthermore, China has managed to gain influence by placing its people in positions of power in international bodies like the World Health Organisation. We saw this with the outbreak of Covid-19. At the same time as China realised the disease was infectious and banned internal travel within China to stop the spread of the virus, China pressured the World Health Organisation to claim the virus wasn't infectious and to keep international travel open. This was catastrophic for Europe and America. At first, the virus spread to Italy as a large number of Chinese workers regularly travel to Italy to work in the many Italian companies which have been bought by Chinese businesses. And from Italy, the virus quickly spread to the rest of Europe and then America. Moreover, if a new virus had emerged within a few kilometres of the US biological research facility at Fort Detrick, the world would have ridiculed any US claims that the appearance of the new virus just beside a biological research institute was a coincidence. And countries around the world would be queuing up demanding trillions of dollars in compensation from the US for damage caused by the virus. But in a chilling example of China's power, only one country – Australia – dared question the origins of Covid-19 and it was quickly punished when the Chinese Communist Party banned the import of Australian coal.
But most commentators and experts have missed what may be China's most powerful weapon against the power of America and the West. This weapon is the imaginary Climate Crisis which is causing Western leaders to implement economically-suicidal policies to fight supposed man-made climate change.
For example, since 1990 America has implemented 'green' policies which have enabled the country to reduce its CO2 emissions by almost 30 percent from around 21 tonnes per capita to about 15 tonnes per capita. At the same time, America's share of world GDP has fallen from 32 percent to just below 20 percent. The European Union has cut its CO2 emissions from by over 30 percent from 9.2 tonnes per capita to 6.3 tonnes per capita. Over the same period the European Union's share of world GDP has almost halved from 28 percent to just under 15 percent. We see a similar picture in Britain which has managed to reduce the country's CO2 emissions by an astonishing 50 percent from over 10 tonnes per capita to just 5 tonnes per capita since 1990. During the same 30 years, Britain's share of world GDP has fallen from over 4 percent to just 3.2 percent.
Politicians in these countries like to boast about how their policies are reducing their countries' CO2 emissions as they fight the imaginary demon of man-made Climate Change. But all these countries have done is to replace cheap, reliable fossil-fuel energy from coal, oil and gas with expensive, intermittent and unreliable supposedly renewable energy from wind and solar. This has resulted in energy costs in America being three times as expensive as energy costs in countries like India and China and energy in Europe being four times as expensive as in India and China. So, many companies, especially those in energy-intensive industries like steel-making, aluminium and glass, have closed their plants in countries where energy is expensive and moved production and jobs to cheap-energy countries like China and India. At the same time as Western countries have been cutting their CO2 emissions by deindustrialising and thus losing share of world GDP, China has increased its CO2 emissions from just 2 tonnes per capita to over 8 tonnes per capita and its share of world GDP from around 2 percent to almost 18 percent. Over the same period, India has tripled its CO2 emissions from 0.7 tonnes per capita to over 2 tonnes per capita and almost tripled its share of world GDP from about 1.1 percent to 3.3 percent.
Over the 30 years since 1990, South Korea has more than doubled its CO2 emissions from 5.7 tonnes per capita to 12 tonnes per capita and almost tripled its share of global GDP from about 1.2 percent to 3.2 percent. But if South Korean leaders fall for the delusion that human activities are causing the climate to change and if they start implementing supposedly 'green' policies to cut the country's CO2 emissions in a futile attempt to stop the natural process of the Earth's climate changing, then the example of what has happened in America, the European Union and Britain shows us what will inevitably happen in South Korea. Replacing cheap, reliable fossil fuels with expensive and unreliable energy from wind and solar leads to much higher energy prices, deindustrialisation and economic decline as companies and jobs move to countries where energy costs are lower.
You have been warned.
Seok Pak and David Craig are authors of CLIMATE APOCALYPSE The greatest scam in human history