Monday/Tuesday blog
Here's a recent review of my book THERE IS NO CLIMATE CRISIS from a reader on Amazon. The readers titles his/her review 'Dangerous misinformation' and gives me the lowest possible rating – one star.
This is what the reader wrote:
The cover of this book depicts a 'doomsdayer' and his sandwich board full of failed doomsday dates. But guess what? Climate scientists have never stood on street corners claiming the end is nigh – this is typically the behaviour of Christian evangelists in North America. And the rapture cometh not. Interesting how such an image has been wildly misappropriated to sell the entirely false idea that climate change isn't happening, or that the scientists studying these changes are 'doomsdayers.'
Anthropogenic climate change is available for all to see and its existence and progress has been verified by the world's leading scientists and research bodies. It's also verifiable by anyone with eyes. Amazon's willingness to sell amateurish tomes packed with conjecture and misinformation is something of a stark contrast with Jeff Bezos' insistence that the company cares about the climate.
In short: this is a tome of misinformation, authored by an individual with no accreditation or qualification to comment. Save your time.
I'd like to just spend a few moments examining this person's criticisms.
Issue 1: 'Climate scientists have never stood on street corners claiming the end is nigh'
Well here are a few quotes from leading climate catastrophists:
'A senior environmental official at the United Nations, Noel Brown, says entire nations could be wiped off the face of the earth by rising sea levels if global warming is not reversed by the year 2000,' Mercury News 30 June 1989
'Nuclear conflict, mega-droughts, famine and widespread rioting will spread across the world …. deaths from war and famine run into the millions, until the planet's population is reduced by such an extent the Earth can cope,' Observer 11 November 2004
'Climate change study predicts refugees fleeing into Antarctica,' Daily Telegraph 13 October 2008
'Barack Obama has only four years to save the world. That is the stark assessment of NASA scientist and leading climate expert Jim Hansen,' Guardian 18 January 2009
'The best scientific projections indicate that we have very little time left – indeed less than 100 months – in which to alter our behaviour drastically,' The UK Prince of Wales 26 May 2009
'Four years to save the Earth: 2020 is the deadline to avert climate catastrophe, experts claim,' Daily Mail 29 June 2017
'The planet is getting warmer in catastrophic ways. And fear may be the only thing that saves us,' New York Times February 2019
'Climate change is the number one issue facing humanity. And it's the number one issue for me. Unchecked it's actually going to bake this planet,' President Joe Biden 21 March 2021
Issue 2: 'Anthropogenic climate change has been verified by the world's leading scientists'
In Chapter 9 of my book, I explain why the "97% of scientists" agree man-made climate change is happening claim is completely fraudulent and that the real figure may be somewhere around 8%.
Issue 3: 'This is a tome of misinformation'
The whole point of my book is that it's not a 'he said – she said' diatribe giving my opinions. What my book does is use historical documentation – newspaper articles, official statistics and real-life data – to show that every claim made by the climate catastrophists is nonsense. Here's just one of many examples:
In the most recent US National Climate Assessment, the experts claim that the area burnt by wildfires is increasing due to supposed Global Warming:
And, of course, the mainstream media enthusiastically pushes the Global Warming narrative:
This National Climate Assessment chart conveniently starts in the 1980s. In the 1960s and 1970s, the Earth cooled so much that leading climatologists thought a new ice age was coming: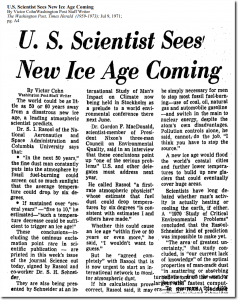 So the National Climate Assessment writers deliberately started their chart at a point where the Earth was the coolest it had been and thus wildfires would have been at their lowest level.
If we look back at burnt acreage before the official National Climate Assessment chart, we see that burnt acreage was much higher in the scorching 1920s and 1930s when atmospheric CO2 levels were much lower than they are today:
What the supposed scientists writing the National Climate Assessment report have done is hidden the data which debunks their man-made Global Warming cult in order to fool us into believing catastrophic man-made Global Warming is happening:
But even more laughably, if the New York Times 'journalists' who wrote the 2016 article had even read back copies of their own newspaper, they'd know that burnt acreage was much higher in the past than it is now: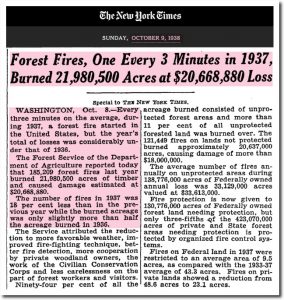 After all, the 2016 New York Times article claims that the 10.3 million acres burnt were 'the most on record'. Yet this 1937 article from the same newspaper tells us that 21,980,500 acres burnt. So how can 2016's 10.3 million acres be the 'most on record'?
This is just one example of how I have written my book – I have used facts and official figures to show how the climate catastrophists are continually lying to us to push their quasi-religious, end-of-days cult.
What I have done in my book is provide accurate information to debunk the alarmist and dangerous misinformation being peddled by the climate catastrophists who are trying to use the supposed 'Climate Crisis' as an excuse to impoverish us and control every aspect of our lives.
Issue 4: Amazon should not be selling 'amateurish tomes packed with conjecture and misinformation'
This is perhaps the most interesting comment made by the reader. Apparently this reader feels that the only books which should be allowed to be published are those which reflect this readers' own views. That tells us all we need to know about the mentality of the woke, supposedly 'liberal' progressives who constantly preach at us from their positions of self-anointed moral superiority but who cannot tolerate any form of dissent to their one-sided, often unscientific opinions.
And we all know where the banning of books leads.