Wednesday/Thursday blog
Energy costs and GDP growth
I looked again at the charts I used in my Monday/Tuesday blog and had a crazy idea – I wondered if the lower a country's energy costs, the more manufacturing jobs it will attract and the faster that country will grow. Conversely, the higher a country's energy costs, the more jobs will be destroyed.
I know this will sound ridiculous to the worshippers of Saint Greta and Al Gore and all our net-zero-obsessed politicians, who assure us that net zero will create millions of highly-skilled, highly-paid 'green jobs'.
We'll start with China
Here's China's energy mix:
China increases its use of cheap, energy-rich coal almost every year.
And here's China's share of global GDP

Could there be a connection between these two charts? I wonder.
Now let's look at India
Here's India's energy mix: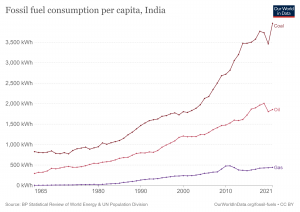 Just like China, India burns lots of cheap, reliable energy-rich coal.
Here's India's share of global GDP:

Now let's look at the USA
Here's the USA's energy mix:
As you'll see, the climate-catastrophists have managed to wreck the USA's coal industry. Here's the USA's share of global GDP:
In 1960, U.S. GDP represented 40% of global GDP. Now it's around 20% a fall of almost half in 60 years.
I realise that correlation does not imply causation, but even a politician should be able to see a pattern emerging.
Comparing  electricity prices
In the UK electricity costs about $0.32 per kw/hr. In the USA it's much lower at $0.16. But in China at $o.08 per kw/hr, electricity costs a quarter of what we pay in the UK and half the amount American homes and businesses pay. In India electricity costs even less at just $0.07 per kw/hr
https://www.visualcapitalist.com/mapped-global-energy-prices-by-country-in-2022/
I'd quite like some of our politicians to explain to us how UK companies are going to be competitive and get the UK economy growing when British companies have to pay four times as much for their energy than their competitors in China and India.
Come on Rishi! You're meant to be a financial genius. Please enlighten us as to why it's good for Britain that our companies are being destroyed by high energy prices largely due to useless governments like yours closing down cheap reliable coal- and gas-fired power stations and replacing them with unreliable, intermittent and ludicrously expensive wind and solar.