Friday/weekend blog
Here's little story you're unlikely to see covered in much detail by the UK-loathing BBC, C4 News or any other mainstream media.
The road from Marrakesh
You might remember that in 2018 the UK signed up to The Global Compact for Safe, Orderly and Regular Migration – an intergovernmentally negotiated agreement, prepared under the auspices of the United Nations that describes itself as covering "all dimensions of international migration in a holistic and comprehensive manner".[3]
Well it's rather lucky that we so willingly handed over control of our borders to the utterly corrupt and useless United Nations because there are an awful lot of people in the world who would rather like to live somewhere else than the countries where they were born.
Galluping to the great replacement?
Apparently the polling organisation Gallup does an annual survey covering interviews with nearly 127,000 adults in 122 countries asking whether they would rather like to migrate somewhere else.  Gallup say that round 16% of adults worldwide — which projects to almost 900 million people — said they would like to leave their own country permanently, if they could: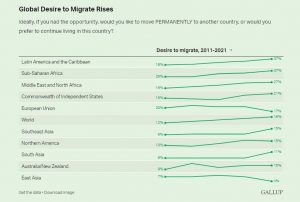 The chart above shows the percentage of adults who want to migrate from each region  of the world and how this has changed from 2011 to 2021.
(to see the charts clearly, left-click on them, then left-click again)
I suspect the real figure would be higher. But just to make the maths easier, let's assume that about a billion people want to leave their homes countries.
Where do they want to go?
The next chart shows the desired destinations for these one billion or so would-be migrants and how this has changed from 2011 to 2021: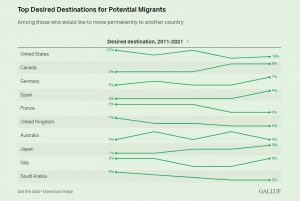 Perhaps surprisingly, the number wanting to come to the UK has fallen from 7% to 4%. But 4% of a billion people is around 40 million. Moreover, we have to be careful as many of those wanting to go to Italy and Germany may have the UK as their ultimate goal.
Oddly, not many of these good people fancy ending up in Saudi Arabia.
The world's worst cess-pits?
Gallup also singled out the countries from which more than half the adult population would like to escape: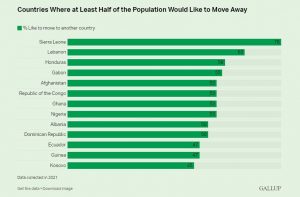 Prepare for the invasion
Of course, not all the 40 million who want to come to Britain will make it. But given our rulers' refusal to protect our borders, an awful lot will. We've already seen how the number of wonderful diverse multi-cultural enrichers being ferried in comfort and safety across the Channel by Border Farce and the worthless RNLI has doubled every year:
And in 2023 may well hit more than 80,000. But that's just a tiny proportion of the 40 million who want to come to Britain: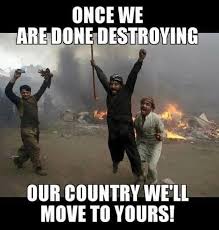 So, if you've got a couple of spare rooms in your home, our globalist UK-hating governments will probably start requisitioning them to house the incoming hordes. After all, our rulers will probably claim that all these uneducated, unemployable, deeply-criminal, military-age, rape-obsessed men are supposed 'climate refugees'. And as we greedy westerners are supposedly responsible for the supposed 'Climate Crisis', then it's our responsibility to house the incoming tsunami of illegal migrants.
Or else the government will start imposing taxes on people the government considers are living in homes that are larger than they need in order to force these greedy, space-hogging people to downsize to make more room for the invading Third-world locust swarm.
You think this won't happen? I admire your optimism.
Open-borders Britain vs closed-borders Japan
Here's a short video by Paul Joseph Watson extolling the benefits of living in vibrant, multi-cultural, crime-ridden, collapsing, open-borders, overcrowded, migrant-hugging, increasingly woke Britain compared with the stability and low-crime cities of closed-borders rather more conservative Japan: