Monday/ Tuesday blog
Millions of 'green jobs'
We're constantly being told that moving from fossil fuels to supposedly 'renewable' energy will create millions of 'green jobs'. Well, here's a nice picture of some of those 'green jobs':
Most of the 'green jobs' will be done by child (slave?) labour in Africa and South America digging up all the metals needed for the wind turbines, solar panels and electric milk carts pretending to be cars or else in Chinese factories producing the wind turbines, solar panels and batteries for electric vehicles.
Destroying the Earth in order to save it?
I found this series of tweets wandering around the Internet. It exposes the unbelievably vast amounts of mining and pollution that will be caused by 'going green'.
(to see the image clearly, left-click on it and then left-click again)
The key part of the above tweets is the final one showing how much material has to be dug up to produce relatively small amounts of the metals the 'Green Revolution' will require.
Here's a typical lithium mine: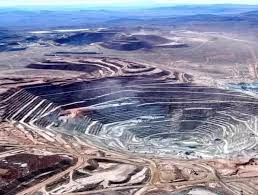 It's odd that our politicians and mainstream media and other climate-catastrophists never mention this environmental disaster which 'going green' is causing.