Thursday/Friday blog
Hell-hole Somalia
Apparently six Somali children have written an open letter to world leaders calling for action on climate change to end the drought ravaging their country.
Almost seven million of the east African nation's population of 17m are facing acute food shortages. And some 1.8 million children are thought to be at risk of malnutrition, according to the United Nations:
https://www.express.co.uk/news/world/1721103/somalia-drought-hunger-crisis-climate-change
I don't mean to be hard-hearted, but as long as I can remember there have been droughts and food crises in Somalia.
So let's briefly look at some facts the mainstream media always 'forgets' to report.
Fact 1 – Forestation levels
It seems that our highly intelligent Somali friends like cutting down trees. But some people might suggest that's not a smart thing to do in a dry, arid country which risks being turned into a desert.
Fact 2 – Population
With Somalia's constant droughts and hunger crisis, you'd expect the population to grow very slowly, if at all. Ooops, here's what actually happened:
There seems to have been a more than slight increase in Somalis since records began around 1800 – from under 2 million to around 17 million.
Fact 3 – Rainfall
What about rainfall? Has supposed 'climate change' affected this?
There seem to have been some ups and downs – mainly influenced (if I remember correctly) by the strengths of the El Nino and La Nina weather systems.
Is there a link to atmospheric CO2 levels? Here's a chart of atmospheric CO2 levels: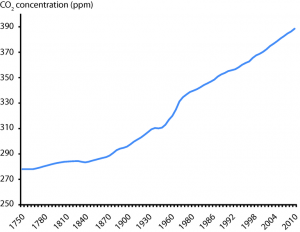 Can you spot any link between rainfall in Somalia and atmospheric CO2 levels? I can't. In fact, looking at the rainfall chart, it would seem that rainfall levels have been more consistent each year since around 2000.
Is climate change to blame?
So, the question we can all ponder is: what is really causing drought, poverty and starvation in Somalia? Is it a lack of rainfall due to rising atmospheric CO2 levels as the climate catastrophists and the BBC keep claiming? Or could it have something to do with the fact that the country simply can't support its fast-growing population?
I think I know the answer. But no doubt our useless government will give hundreds of millions of our money to utterly corrupt Somali politicians for 'climate reparations' to apologise for us supposedly causing famines in Somalia.
Unfortunately facts seem irrelevant when it comes to the climate catastrophist cult.