Tuesday blog
I hope you watched the Mark Steyn Show on GB News yesterday evening. If you did, you'll have seen a short clip in which (IMHO) blabbing big-mouth Stanley Johnson, father of our former PM, rather gives the game away about our rulers' plans for imposing CO2 allowances on us.
In our rulers' plans, each country and each individual within each country will have a carbon allowance which will restrict how much they can buy, travel and how much energy they can use. This will all be for our own good as it will help 'save the planet'. And we will no doubt submit to these new restrictions on our freedoms to 'save the planet' just as we submitted to the Chinese lab-leaked plague lockdowns to supposedly 'save the NHS' and 'save granny'.
The mainstream media will, as they did with the disastrous Covid lockdowns, cheer on the restrictions and bully and harass us into complying. Meanwhile, anyone daring question the new restrictions on our lives will be attacked as 'climate deniers' and 'planet-haters' and 'destroyers of mankind' and 'mass murderers' and being 'worse than Hitler' etc etc etc
The political and media elites won't need to worry about their carbon usage as they'll be allowed unlimited travel as it's important for them to attend important conferences enjoying the weather and eating the most luxurious food in the world's best holiday resorts so they can lecture us proles on the need to cut our carbon footprints. As for the rich, they'll be able to buy carbon credits from carbon-trading companies (often in which they have invested) so they won't suffer the carbon restrictions which will be imposed on the rest of us.
Journalist Ross Clark describes our carbon-limited future in his satirical novel THE DENIAL: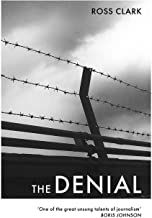 Here's a short (2-3 minutes) video from Paul Joseph Watson in which he explains how Stanley Johnson seems to have inadvertently spilled the beans about the future our leaders have planned for us: