Wednesday/ Thursday blog
It looks like the fight over the invasion of our country by uneducated, unemployable, mostly criminal Third-world garbage is going to get nasty. UK mainstream media (BBC, C4 News, ITV News) enthusiastically aided by overpaid, over-pensioned senior Home Office pen-pushers are desperately trying to get Home Secretary, Suella Braverman, sacked as she seems to be serious about stopping the invasion.
Moreover, several Tory MPs appear to be joining the lynch mob with even the immigration minister, a (IMHO) worthless nonentity called Robert Jenrick, trying to stab Braverman in the back. Apparently friends of former Home Secretary Priti/Totally Useless Patel have also been enthusiastically trying to destroy Braverman. As for our (IMHO) cowardly, spineless PM, he also appears to be getting cold feet about supporting his Home Secretary and has started bleating about how 'Britain is a compassionate country'. This suggests he's planning to cave in to media pressure to block or sack her. No doubt he will then cave in to media pressure again by jetting off to the pointless climate-catastrophist talking shop in Sharm El-Sheikh.
The Blair/Brown immigration trick
This is not the first time a British government has been under pressure to act to curb illegal migration. The last time was during the Blair/Brown government when thousands were flooding into Britain in the backs of lorries. Here's a simple chart showing how Blair/Brown 'dealt with the problem':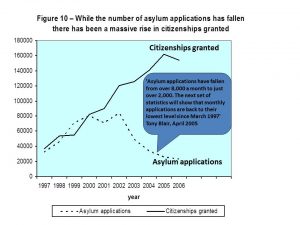 There are two lines on the chart: the dotted line shows the number of asylum applications and the solid line the number of UK citizenships granted to migrants. You'll see that the number of asylum applications (the dotted line) shot up from the Blair/Brown election win in 1997 till about the year 2000, then levelled off till about 2002 before dropping dramatically. This extraordinary (almost magical) fall in asylum applications allowed Blair to claim his government had been hugely successful in controlling illegal migration.
But, if you look at the other line on the chart (citizenships granted), you'll see this rocketing up. Basically, immigration officers were instructed to tell illegal migrants that, if they didn't apply for asylum (making the asylum figures look bad), they'd be given UK citizenship much more easily. The Blair/Brown government managed to appear to hugely cut the number of asylum applications by handing out UK passports like confetti.
I wonder what lies and tricks the Sunak government will come up with to try to convince us that they have the latest migration disaster under control?
Incompetents govern through deceit
This is just one small example of how for decades our useless self-serving rulers have found that government by deceit is much easier than government by competence. Though this example is rather minor compared to the catastrophic destruction our rulers are now wreaking on our lives:
an economic meltdown caused by the pointless lockdowns to save us from a lab-produced and lab-leaked virus with a 99.9% survival rate
a health crisis caused partly by the lockdowns and partly by forcing us to take untested potentially harmful fake vaccines which caused widespread heart problems and actually lowered people's natural resistance to viruses rather than protecting us
an energy crisis caused by the ludicrous fantasy that we can somehow control the Earth's climate by using less fossil fuel and by the laughable idea that you can power a modern economy with unreliable wind and solar when the wind often doesn't blow and the sun seldom shines. As the head of one of Germany's largest power companies said, relying on solar power in Germany was as sensible as trying to grow pineapples in Alaska
a jobs crisis caused by our high energy costs forcing most of our manufacturing to move to low-energy-cost countries like China
a food price crisis caused by our rulers' new war against farming to save us from a non-existent supposed 'nitrogen crisis'
a food, fuel and nuclear war crisis caused by Western rulers' refusal to agree to make Ukraine a neutral country to allay Russian fears of having NATO troops on Russia's borders
None of these crises were inevitable. All these crises were manufactured by our rulers' stupidity and incompetence. And the worse each crisis becomes, the more our worse-than-garbage rulers, enthusiastically aided and abetted by the mainstream media and various prostitute experts-for-sale, have to lie to us to cover up their own culpability for creating these crises in the first place.
We live in a strange new world in which government by lies has replaced government by competence.