weekend blog
I don't have a story today.
But to return to the tale of how Florida Governor Ron DeSantis shipped about 50 Venezuelan illegal migrants to upmarket Martha's Vineyard, you'll probably know that the good (and very rich) folk of Martha's Vineyard called in the US national guard and had the migrants rounded up and shipped off to an army base. No doubt the Venezuelans will then be sent somewhere else. After all, you wouldn't expect people like Obama and his wealthy, progressive, liberal, preachy chums to allow unsightly illegal migrants to crowd up the streets of their luxury enclave.
Perhaps amusingly, here's a sign posted on a building in Martha's Vineyard before DeSantis sent the illegals there: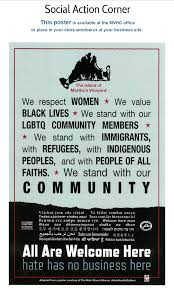 Is anyone surprised at the hypocrisy of the ever-so-liberal, holier-than-thou, virtue-signalling, migrant-hugging elites when they actually come face to face with some real migrants?