Friday/weekend blog
Every week seems to bring a new crisis. There's the energy crisis, the cost-of-living crisis, the ambulance crisis, the NHS crisis, the excess deaths crisis, the housing crisis, the illegal immigration crisis, the education crisis, the social care crisis, the water crisis and no doubt there are a few more crises I can't remember for the moment.
In today's blog, I'm going to propose that most (if not all) of these crises are self-inflicted – caused by the incompetence, stupidity, short-sightedness, mendacity, greed and treachery of our rulers.
The ambulance crisis
We're told that thousands will die because it's taking ambulances hours, rather than minutes, to reach people with serious health problems. So, just in case there are a few of our worthless, expenses-fiddling politicians or useless, over-paid, over-pensioned NHS bosses reading, I'll make this very simple by answering a series of basic questions:
Q1: Why are ambulances taking so long to reach health emergencies?
A1: Because they spend hours waiting at hospitals before they can get patients into A&E
Q2: Why can't ambulances get patients into A&E?
A2: Because there are insufficient hospital beds available
Q3: Why are there insufficient hospital beds available?
A3: Because 10% of hospital beds are occupied by people who should have been discharged
Q4: Why haven't those people been discharged?
A4: Because there aren't enough carers available to look after them either in care homes or their own homes
Q5: Why aren't there enough carers available?
A5: Because our useless Government forced care companies and care homes to fire around 40,000 experienced carers who sensibly refused to get the potentially dangerous fake vaccines
Q6: But now care workers don't need the fake vaccines, why haven't care workers gone back to work?
A6: Because they've found other jobs which are less stressful and more pleasant than cleaning granny's ass all day
Of course, there are other contributory reasons for the ambulance crisis – the NHS wasting billions employing ever more managers and Diversity, Inclusion and Equality specialists while continually cutting the number of hospital beds; fewer doctors being available as many are forced to retire early due to tax rules or else many are not willing to work full-time as half of doctors are now female and want to balance looking after their children with their work.
Why is 'Root Cause Analysis' so rare?
What I have done above is apply what's called 'Root Cause Analysis'. This is a way of exploring an issue so that you logically find the basic causes rather than just panicking over the easily-observable symptoms. In any field, if you just try to deal with the symptoms of a problem, rather than its root cause, you'll never solve the real problem.
Car manufacturer Toyota are credited with using Root Cause Analysis – what the company called "The 5 Why's" – to build cars whose quality was vastly superior to Toyota's western competitors: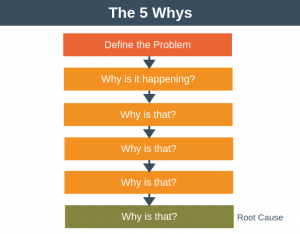 Most journalists never bother with Root Cause Analysis. Instead they just hyperventilate about the ambulance crisis or the cost-of-living crisis or the energy crisis or whatever other crisis without ever looking for the real cause. Or, if journalists do mention a supposed cause, it's usually that the Government should spend billions more on whatever problem they are blethering on about. This can be because journalists are lazy or ignorant or because the underlying cause is something which is politically-incorrect and so mentioning it would be career-destroying.
Let's do one more – the cost-of-living crisis
Q1: Why are fuel costs shooting up and pushing millions into fuel poverty?
A1: Because nasty Mr Putin invaded Ukraine. (Today, while announcing the new energy price cap, the Ofgem top panjandrum joined the ever-lengthening queue of people blaming Putin)
Q2: Why didn't we have plenty of fuel so we could have ignored Putin's invasion?
A2: Because energy companies have been limiting investments in exploration and refining
Q3: Why have energy companies have been limiting investments in exploration and refining?
A3: Because for thirty years or more our rulers have told energy companies that they are destroying the planet, that governments might take legal action against energy companies demanding compensation and governments have advised pension funds and others not to invest in energy companies
Q4: Why have Governments been waging war on energy companies?
A4: Because our politicians have bought into the climate-catastrophist, man-made Global Warming nonsense
Q5: Why have politicians believed the climate-catastrophist nonsense?
A5: Sorry – I have absolutely no idea how anyone could be so stupid!!!!!
A few other crises
I won't go through the same process with all the other crises. But I'll give a few examples of the root causes of some of these crises and why these causes are never mentioned by journalists and the usual talking heads and other supposed 'experts'
The Housing Crisis
Between 170,000 and 180,000 new homes are built in the UK each year. Most journalists blame the Government for not building sufficient homes. But net migration to the UK is probably over 400,000 each year (around 1,100,000 visas were issued for people to come and live in Britain last year!). How many journalists dare mention that it's physically impossible to find the land and the workforce to build over 400,000 new homes each year and that the real cause of the housing crisis is far too many migrants?
The food crisis
Food prices are shooting up forcing ever more people to rely on food banks. For decades our rulers have been deliberately restricting the amount of food our farmers could produce. First they forced crops to be diverted from food production to making useless, inefficient biofuels. Then they paid huge subsidies to farmers to transfer farmland from food production to hosting wind-farms and solar farms. Then they paid more subsidies to farmers to 'rewild' parts of their land further reducing food production. And now our rulers are restricting fertiliser use which will lead to a 20% to 30% drop in agricultural productivity and the bankruptcy of many farmers.
So, what's really causing the food crisis? Our rulers' ludicrous climate-catastrophist, net-zero policies. But no journalist or expert dares say this as criticising the climate change cult is career suicide.
Meanwhile, back in Africa
This year, as every year, we're being told by our rulers and the mainstream media that there will be famine in Africa and that the only solution is that we pour ever more billions in foreign aid into that bottomless pit – Africa.
If you were to apply 'The Five Whys' to why Africa has needed so much foreign aid every single year for the last 60-70 years and still needs billions more, you might find out the real reasons why every single African country is a poverty-stricken, excrement-covered, over-crowded, corruption-riddled, backwards, conflict-addled, basket-case hell-hole, But you might not like the answer you reach. So, it's always easier to claim that all Africa needs is more of our money.