Friday/weekend blog
Imagine the outrage
Can you imagine the mainstream media reaction if a white American serial killer was stalking a medium-sized US city (population about 500,000) murdering only Muslim men?  Can you imagine the hours and hours and hours the BBC and C4 News and Sky News would spend on the story? Can you imagine the outraged newspaper headlines? Can you picture all the seemingly endless interviews with virtue-signalling politicians and media pundits and opinion-formers and leaders of the Muslim community and professional I-told-you-so attention-junkies and others of their ilk? Can you picture their foam-flecked fury? And they'd all be hectoring us about America being an Islamophobic society and no doubt they'd all be blaming Trump for sowing supposed division and hatred.
And then, of course, there would be the Muslim Lives Matter marches:
and maybe even a few 'fiery but mostly peaceful' protests:
Here's the story
After three Muslim men were gunned down in less than two weeks in Albuquerque, it seemed like a possible serial killer was stalking Muslims in the area. Police believe the three shootings — along with a fourth last November — are connected, and that the killer or killers have intentionally targeted Muslims. Before the fourth attack, in an Aug. 4 press release and request for tips, police said that, in each instance, the killer had "ambushed their victims with no warning, fired shots and killed them."
The most recent victim, 25-year-old Naeem Hussain, was found shot dead on Friday in his car in the parking lot of a refugees services organization, where he had worked at one time. Hours earlier, he had attended a funeral for the other two recent victims, Aftab Hussein, 41, and Muhammad Afzaal Hussain, 27, who were killed July 26 and Aug. 1, respectively, both shot outside their homes. All three men were immigrants from Pakistan. Their shootings were preceded by the November death of 62-year-old Mohammad Ahmadi, originally from Afghanistan, who was killed outside the grocery store he ran with his brother.
Biden weighs in
There are around 19,000 murders in the US every year – that's around 365 every week. Most of these are ignored by US politicians. But when 3 to 4 Muslim men are murdered, the handlers of the great leader of the free world, President Joe Biden, felt he had to be seen to comment: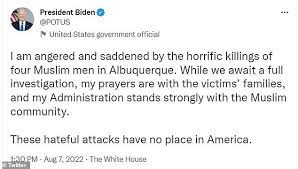 Police catch the serial killer
The good news is that the Albuquerque police believe they have caught the murderer. The bad news for the liberal, progressive, US-hating media is that the suspect is 51-year-old Muhammad Syed. Judging by his name, Muhammad Syed is probably not a red-necked, Trump-supporting Islamophobic white supremacist.
Syed was arrested after police identified his car as having been at the scenes of two of the crimes and found the gun used in both those killings in Syed's home.
Authorities stated that Syed is originally from Afghanistan, and that he's lived in New Mexico for roughly five years, where he has faced three misdemeanor domestic violence charges, all of which were dismissed. Officers declined to confirm reporting by the New York Times that said the suspect was a Sunni Muslim and may have been targeting Shiite Muslims victims after his daughter married a Shiite, although they acknowledged they had heard this information and were investigating the suspect's motives.
No story. Nothing to see here (1)
Oh dear. It seems that as part of America's multi-cultural enrichment, our friends from the Religion of Peace may have imported the utterly pointless and to most people incomprehensible murderous Sunni vs Shiite internecine war.
And that's why you probably haven't seen anything in the media about these murders. They don't fit the mainstream-media narrative of everything in the West being rotten and everything from the Third World being enriching and wonderful.
Remember Amina and Sara?
Anther recent story that the mainstream media seem to have rapidly glossed over is that after 12 years on the run, protected by members of his family, the Egyptian-American man, Yaser Abdel Said, who murdered his two daughters has finally been caught, tried and convicted:
What little appeared in the media about this story claimed that Yaser Abdel Said murdered his two daughters as an 'honour killing' because he believed they were dating American boys. But there are reports that Amina was nine and Sarah was eight when they first told their grandmother that their father was abusing them sexually, according to statements made to the authorities. So their murders may have been committed by the father to cover up his sexual abuse of his daughters.
No story. Nothing to see here (2)
Oh dear. It seems that as part of America's multi-cultural enrichment, our friends from the Religion of Peace may have imported the utterly pointless and to most people incomprehensible tradition of murderous 'honour killings'.
And that's why you probably haven't seen to much in the media about these murders. They don't fit the mainstream media narrative of everything in the West being rotten and everything from the Third World being enriching and wonderful: