Friday/Saturday blog
Given the recent outbreak of panic and hysteria about Climate Change in the UK's media after two days of quite hot weather in a few places (mainly near airports) in Central and Southern England, in this blog I'd like to provide what I've called "A Schoolchild's Guide to Climate Change" by trying to answer six very simple questions. Apologies to those who were generous enough to buy my book "THERE IS NO CLIMATE CRISIS" and to many other readers as there is probably nothing here you don't already know.
Question 1: Is the Earth getting warmer?
Since satellites started measuring the Earth's temperature in the 1970s, there are indications that the Earth may have warmed by about 0.06ºC in 43 years: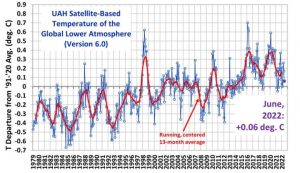 (to see images more clearly left-click on the image and then left-click again)
But as different satellites have been used over the years and the figures have been constantly adjusted by the main meteorological authorities, we cannot be absolutely sure.
Question 2: Is this warming unexpected?
In the 1960s and 1970s, the Earth's temperatures fell by so much that all the experts agreed the Earth was cooling and that there was a risk of a new Ice Age: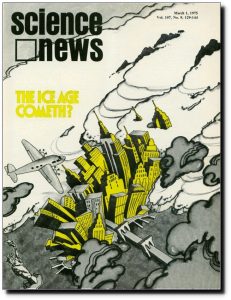 The experts predicted that this new Ice Age would devastate agriculture and lead to the deaths of millions and even wars as countries fought to get food for their populations:
So, the fact that there has probably been a 0.06ºC warming since the end of 20 years of cooling is just a normal part of the Earth's natural cycle of warming and cooling.
Question 3: Is the Earth warmer now than it has been for hundreds of years?
No. There were terrible heatwaves between 1910 to the end of the 1930s. In fact, it was so hot that climatologists then believed that the polar ice caps would melt and many millions would die in catastrophic flooding:
You may have heard of the American 'dustbowl years' described in John Steinbeck's novel Grapes of Wrath. Those were in the 1920s and 1930s.
Question 4: Are more people being killed by extreme weather?
No. In the 1920s and 1930s millions died in droughts and floods:
The number dying in climate catastrophes since then has fallen by around 95% while atmospheric CO2 levels have risen from around 300ppm (parts per million) to over 400ppm:
Natural Disasters – Our World in Data
So, if the BBC or C4 News or your teacher or anyone else tells you that more people are dying due to extreme weather caused by rising atmospheric CO2 levels, they are talking nonsense and are either a liar or a fool or both.
Not only are far fewer people dying due to extreme weather, but the human race has never had it so good in spite of all the warnings of doom and disaster by the climate catastrophists. Although the world's population has shot up from around 1 billion in 1820 to over 7 billion now, a much smaller percent of the world's population are living in extreme poverty than even before:
Question 5: What cases the Earth's climate to change?
The Earth's climate has always changed and always will change. Due to the shape of the Earth's orbit around the sun there are glaciations every 100,000 to 120,000 years:
We are currently in an interglacial period.
In the shorter term, variations in solar activity lead to warming and cooling periods which can typically last from anywhere between 20 to 50 years. Then there are many other influences on the climate such as El Niño and La Nina, the Atlantic Multi-decadal Oscillation and levels of cloud cover. In fact, the Earth's climate is such a complex thermodynamic system that we are very far from understanding how it actually works. But the idea that we can just adjust the Earth's temperature by raising or lowering atmospheric CO2 levels, as if CO2 levels were some kind of simple thermostat like you have in your home, is complete codswallop.
Question 6: But what about the polar bears?
No need to worry about the polar bears. They've been around for tens of thousands of years and have survived more climate changes than you've had hot dinners. Moreover, ever since a treaty signed in 1973 limiting hunting of polar bears to 900 a year hunted by local people using traditional methods, it's estimated that the polar bear population has increased from around 12,000 to over 26,000