Wednesday/Thursday blog
Sri Lanka leads where others will also boldly go
At Carrie's, Boris's and Alok Sharma's utterly pointless Flop 26 climate jamboree in October 2021 in Scotland's drug-addict and alcoholic capital Glasgow, Sri Lanka's (IMHO utterly corrupt) PM, Gotabaya Rajapaksa got fawning applause from his fellow multi-millionaire (multi-billionaire?) peers as he boasted about all the wonderful eco-aware, planet-friendly policies his government was implementing. Chief among these policies was banning nitrogen-based fertiliser and various pesticides as the government ordered the country's two million farmers to go organic.
The result of this boosting organic agriculture was a collapse in crop yields. For example, prior to this eco-stupidity, Sri Lanka was self sufficient in rice. Following the fertiliser ban, the country had to import around $450m of rice. Other Sri Lankan crops suffered the same fate, food prices there have been soaring and the UN reports that a third of Sri Lankan families have no idea where their next meal will come from.
It has been reported that the Rajapaksa family and their cronies have looted around $20bn during their many years in government. This massive corruption combined with the collapse in agriculture has, as you'll all know, led to national bankruptcy, a plebs revolt, the collapse of the government  and widespread chaos in the country: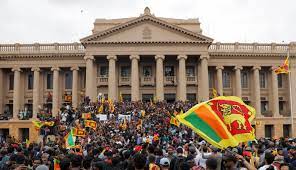 I rather suspect the Rajapaksas will soon be heading for new lives in Dubai joining equally corrupt former politicians who have similarly looted such countries as Afghanistan and the Land of Smiles.
Dutch government's Dutch courage?
You'll all be aware of the mass protests in the Netherlands as their government "does a Sri Lanka" – passes laws restricting drastically fertilizer use. This will bankrupt many farmers and has led to mass protests there: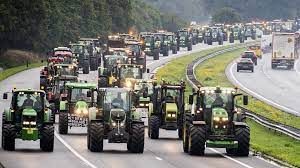 There was even a policeman shooting at a 16-year-old teenager driving his father's tractor in one of the protests: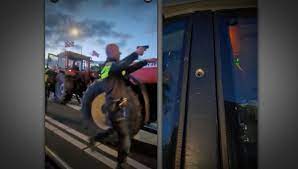 While most commentators attribute the laws cutting fertilizer use to PM Mark Rutte's government's dedication to fighting supposed climate change, some of a more cynical disposition have wondered if there is an ulterior motive.
With a population density of around 510 people per square kilometre, the Netherlands are the most highly-populated major country in Europe: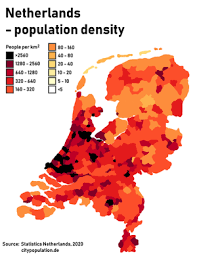 (left-click on map and then left-click again to see more clearly)
The UK, in comparison, has 270 people per km2.
Dutch farmers own around 85% of the land in the Netherlands. So there really is no room to build any new housing. However, if a few thousand farmers went bankrupt and had to sell their land, that would give the Dutch government the chance to buy up this land to build homes for the hundreds of thousands of Third-World migrants pouring over the Netherlands' non-existent borders in search of a "better life" – free housing and healthcare, living off generous benefits and crime and being free to rape as many Dutch girls as they want while the Dutch police are too busy stamping out any anti-government protests by taxpaying Dutch citizens to worry about what the migrant gangs are up to: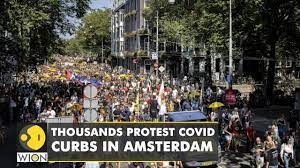 Canada – virtue-signalling with the best of them
You'd think that even politicians controlled by the World Economic Forum would start getting the hint that wrecking agriculture at a time of world food shortages and rapidly-rising food prices wasn't such a great idea. But apparently Canada's metrosexual ultra-woke PM Justin/Justine Trudeau's government has come up with its climate plan which includes reducing nitrous oxide emissions from fertilizer by 30% below 2020 levels by 2030.
A report from Fertilizer Canada stated:
Total Emission Reduction puts a cap on the total emissions allowable from fertilizer at 30% below 2020 levels. As the yield of Canadian crops is directly linked to proper fertilizer application this creates a ceiling on Canadian agricultural productivity well below 2020 levels….
It is estimated that a 30% absolute emission reduction for a farmer with 1000 acres of canola and 1000 acres of wheat, stands to have their profit reduced by approximately $38,000 – $40,500/ annually.
In 2020, Western Canadian farmers planted approximately 20.8 million acres of canola. Using these values, cumulatively farm revenues from canola could be reduced by $396M – $441M on an annual basis. Wheat famers could experience a reduction of $400M.
Trudeau even seems to be aware of the problems his policies will cause:
"We've seen from the global pandemic to the war in Ukraine significant disruptions of supply chains around the world, which is resulting in higher prices for consumers and democracies like ours, and resulting in significant shortages and projected shortages of food and energy in places around the world," Trudeau said.
"This is going to be a difficult time," he continued, "because of the war, because of the recovery from the pandemic. And Canadians will do what we always do: we'll be there for each other.
But Trudeau doesn't seem to give a toss – after all, remember he's trying to save the planet or else just doing what he has been ordered to do by you know who: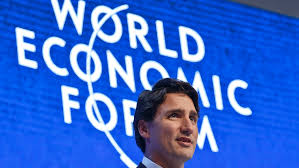 Thank heavens for Neil Oliver
That brings us to a recent video by the wonderful Neil Oliver from GB News. Nobody says it better: