weekend blog
I bet you didn't know about this
Here's a link to a report produced by some of our supposedly leading academics detailing some of the changes in our lifestyle needed to reach 'net zero' by 2050.
http://www.ukfires.org/wp-content/uploads/2019/11/Absolute-Zero-online.pdf
A slightly confusing part of the report is that it's called "Absolute Zero". At the start it mentions the UK's legal obligation to reaching "net zero" by 2050 –  Delivering the UK's climate change commitment with incremental changes to today's technologies. But then the report only uses the expression "absolute zero". I'm not sure if 'net zero' and 'absolute zero' are meant to be the same or whether "absolute zero" is a much more drastic target.
But anyway, let me quote (in blue text) just a few of the best bits:
Executive summary
We can't wait for breakthrough technologies to deliver net-zero emissions by 2050. Instead, we can plan to respond to climate change using today's technologies with incremental change. This will reveal many opportunities for growth but requires a public discussion about future lifestyles.
In addition to reducing our energy demand, delivering zero emissions with today's technologies requires the phasing out of flying, shipping, lamb and beef, blast-furnace steel and cement
Travel – Stop using aeroplanes – all airports to close by 2050
Heating – Use the boiler for less time, if possible, staying warm by only heating rooms if people are sitting in them sealing up air gaps and adding insulation. Wear warmer clothes in winter.
Eating – Reduce consumption of beef and lamb as these have far higher emissions than any other common food
Energy – Replace existing on-shore wind turbines with much taller models to increase total generation by 50%
Taxes – The effective price of carbon must be prohibitively large by 2050 to discourage people from using energy
Construction – All construction of new buildings must stop by 2050
Trade – All ship-based trade must be phased out by 2050
(I wonder how they plan to phase out all ship-based trade by 2050 given that Britain is an island?)
I'm not joking
In case you think I'm making this all up, firstly I'm not that imaginative and secondly here are just a few of the key images from the 'absolute zero' report:
This one includes airports being closed:
And this one shows that eating beef and lamb must stop:
The report also mentions greatly reducing the use of fertiliser. We're seeing what happened in Sri Lanka when their government banned imports of fertiliser – a 40% to 50% fall in crop yields, a massive increase in food prices, economic collapse and widespread starvation.
One of the key conclusions of the report is:
"Our energy supply will be 60% less than today, and solely in the form of electricity". 
I wonder what cutting our energy use by over a half will do to the quality of life of us plebs? The elites, no doubt, won't be affected by the Draconian restriction about to be inflicted on the rest of us.
Of course, the report's recommendations will never be implemented in full. But the report possibly gives an insight into the kind of policies our rulers are planning for us in order to 'save the planet'. After all, the Dutch government have just caused a massive farmers' revolt by trying to cut fertiliser use: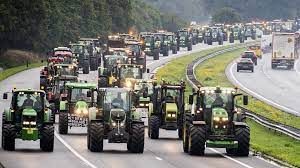 And Dutch police have started to shoot live rounds at Dutch farmers to stamp out the protests: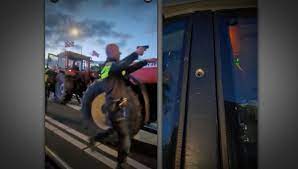 So the kind of policies advocated in this report are already being used in various countries.
(Just as an aside, it's odd that some of the most brutal and violent crackdowns on anti-government public protests recently have been in three of the world's supposedly most liberal countries – Holland, Australia and Canada. However, this weekend's blog is not the place for exploring why that might be)
The report was released in November 2019 and was authored by 'UK Fires', a collaboration between the Universities of Cambridge, Oxford, Nottingham, Bath and Imperial College London – the home of Professor Neil Ferguson.
This should cheer up your weekend!