Friday/weekend blog
First, just let me say that I hope all readers take the time to watch the Mark Steyn Show on GB News every evening from Monday to Thursday at 20.00h (Channel 236). There is nothing like it on UK TV
Here we go again
I think we should be getting used to the pattern. We saw it clearly with the claims that the WuFlu Chinese plague was caused by a leak from a filthy, corrupt, badly-run Chinese lab at the Wuhan Institute of Virology.
At first, anyone suggesting this was derided as a deluded, tin-foil-hat-wearing, crazed conspiracy theorist. At the same time governments, terrified of China's economic might and that any criticism of China might lead to their companies being excluded from the lucrative Chinese market, scientists desperate to crush any criticism of their activities and the usual lying sycophants-for-sale in the mainstream media circled the wagons and fought viciously against anyone daring to mention the lab-leak theory. Moreover, some of the world's supposedly leading and respected scientists and scientific journals knowingly perjured themselves by claiming that the Wuhan wet-food (live animals) market was the source of the Covid outbreak while most of them knew this wasn't true.
After all, maintaining our confidence in the authority of our political, scientific and media elites was much more important to them than discovering what caused the deaths of maybe 10 million innocents directly from the plague and another 10 million or more either because they couldn't get hospital treatment for other conditions or due to impoverishment caused by the Covid economic catastrophe.
But slowly a few independent experts and commentators – leading among them Sharri Markson from Sky News Australia – risked their reputations and careers to discover what really happened in Wuhan. So, now we know the truth that Covid leaked from a Chinese lab.
Yet our political leaders, scientific whores-for-sale and lying media elites, still terrified of Chinese sensitivities, no longer show any interest in investigating and revealing the real source of the greatest disaster to hit mankind since World War II.
V*cc*nes – what are they good for? Nothing, absolutely nothing!
(to the tune of Edwin Star's  "WAR")
That brings us to the supposed 'miracle vaccines' against the WuFlu. At first we were told that, even though Covid might not make us ill, we needed the miracle jabs to protect granny:
However, in the last month, those great jab-promoters – Dr Faustus Fauci and Canadian PM metrosexual Justin/Justine Trudeau (both quadruple jabbed, I think) – have caught Covid yet again. But that doesn't matter as the story had already changed to claims the jabs might not prevent us becoming infected but would reduce our risk of hospitalisation if infected.
However, now even this justification for the untested miracle jabs is (just like the Wuhan wet-market story) beginning to fall apart.
Even the lefty globalist-adoring Guardian is questioning the miracle jabs.
Not being an avid Guardian reader, I didn't notice this Guardian article from 10 September 2021. The headline was: "Boys more at risk from Pfizer jab side-effect than Covid, suggests study".
And the Guardian article went on to tell us:
Healthy boys may be more likely to be admitted to hospital with a rare side-effect of the Pfizer/BioNTech Covid vaccine that causes inflammation of the heart than with Covid itself, US researchers claim.
Their analysis of medical data suggests that boys aged 12 to 15, with no underlying medical conditions, are four to six times more likely to be diagnosed with vaccine-related myocarditis than ending up in hospital with Covid over a four-month period.
Most children who experienced the rare side-effect had symptoms within days of the second shot of Pfizer/BioNTech vaccine, though a similar side-effect is seen with the Moderna jab. About 86% of the boys affected required some hospital care, the authors said.
The evidence continues to grow
There have been several similar studies. The most recent is from 23 June 2022 and is titled: Serious Adverse Events of Special Interest Following mRNA Vaccination in Randomized Trials.
Here's a link to the study (which has not yet been peer-reviewed)
https://papers.ssrn.com/sol3/papers.cfm?abstract_id=4125239
The latest study "found that the Pfizer and Moderna mRNA COVID-19 vaccines were associated with an increased risk of serious adverse events of special interest of 10.1 events per 10,000 vaccinated for Pfizer and 15.1 events per 10,000 for Moderna. When combined, the mRNA vaccines were associated with a risk increase of serious adverse events of special interest of 12.5 per 10,000 vaccinated.
The authors note that this level of increased risk post-vaccine is greater than the risk reduction for COVID-19 hospitalisation in both Pfizer and Moderna trials, which was 2.3 per 10,000 participants for Pfizer and 6.4 per 10,000 for Moderna. This means that on this measure, the Pfizer vaccine results in a net increase in serious adverse events of 7.8 per 10,000 vaccinated and the Moderna vaccine of 8.7 per 10,000 vaccinated"
Or to summarise in plain English – The excess risk of serious adverse events of special interest surpassed the risk reduction for COVID-19 hospitalization relative to the placebo group in both Pfizer and Moderna trials.
The authors used the same clinical trials data used by bodies such as the US Food and Drug Administration (FDA). This was, I believe, the data that Pfizer and the FDA wanted to keep hidden away from us worthless plebs for the next 75 years.
But whereas Pfizer and the FDA used the data to justify mandating the jabs, the latest study questions the methodology used by Pfizer and the FDA for pushing emergency authorisation: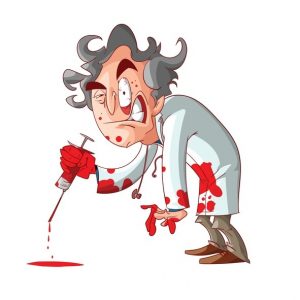 You can read more about this study on Toby Young's Daily Sceptic website:
https://dailysceptic.org/2022/06/22/covid-vaccines-more-likely-to-put-you-in-hospital-than-keep-you-out-bmj-editors-analysis-of-pfizer-and-moderna-trial-data-finds/
One thing is becoming absolutely clear – there is absolutely no medical justification for the pressure to vaccinate anyone under 20 years old in normal health against the Xi Pingpong's lab-leaked plague. And it's even questionable whether anyone in normal health under say 50 years old should be vaccinated. As for the latest decision to vaccinate babies/children from 6 months to 5 years old – that's a political decision to cover up the fact that for most people the miracle vaccines are probably doing more harm than good.
The next big lie to fall?
In just a couple of years, two of the greatest falsehoods ever forced on us by our self-serving, self-enriching, power-hungry political, scientific and media globalist elites, have been slowly and surely dismantled by the diligence and perseverance of a few mavericks who weren't taken in by our rulers' lies.
Will the greatest lie of them all – the ludicrous doomsday cult of man-made global warming or climate change or climate emergency or climate crisis or climate breakdown or whatever it's called this week – be the next domino to fall?
I've done what I can with my book THERE IS NO CLIMATE CRISIS (for which I only get £0.50 for every copy sold):
Let's hope smarter people than I continue the battle against what is possibly the most destructive lie of them all.