Friday/weekend blog
My apologies for the bad language in this blog. But I just couldn't find any other way of expressing what the globalist elites are doing to us all.
The W.H.O. defecates on us
First two pieces of great news from the World Health Organisation:
On 24 May 2022 (last week), the (IMHO) utterly corrupt, utterly corrupted, incompetent Ethiopian guy whose name I can't be bothered to spell was re-elected as Director-General of the World Health Organisation for another five-year term. Tedros Whats-his-name was the guy who could have stopped the Wuhan lab-leaked plague in its tracks by admitting the plague could be passed from person to person and thus proposing an international travel ban. That was his job. Instead, he followed the orders of his Chinese boss claiming that the Chinese plague wasn't infectious and that international travel should continue even as the Chinese were banning all travel within China. Then, of course, Tedros helped the Chinese cover up that the plague leaked from a filthy, badly-run lab at the Wuhan Institute of Virology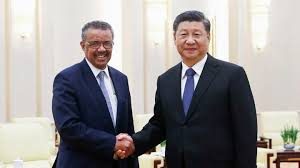 And while we're on the subject of China and the World Health Organisation, on 28 May 2022, China was elected as one of the 12 members of the World Health Organisation's Executive Board. China will join such paragons of medical excellence as Senegal, Morocco, Yemen, Moldova, the Maldives, Ethiopia and Micronesia in deciding the World Health Organisation's strategy and activities. The only serious members of the World Health Organisation's Executive Board are Canada and the USA. But they can always be outvoted by the worthless Third-World garbage countries most of whom are just glove puppets for the Chinese Communist Party
The United Nations defecate on us
This is not an April Fools joke. Or maybe it is a joke being played on us by the globalist elites. I guess our mainstream media were too busy celebrating the Queen's platinum jubilee to have time and space to tell us that an important UN conference kicks off in Geneva this week – the UN Conference on Nuclear Disarmament. Chairing this important conference is that world leader in nuclear disarmament – North Korea.
I despair!