Wednesday/ Thursday blog
First some great news
The NHS – our great national religion – apparently has so much money and so much time on its hands that it is opening a special clinic to offer free female-to-male surgery for anyone who wants it. I won't go into detail about what this surgery involves. But clearly NHS bosses have too much money and seem completely unaware of the massive waiting lists for real (not narcissistic lifestyle) medical treatments.
https://www.dailymail.co.uk/news/article-10847183/Outcry-NHS-creates-new-service-offer-female-male-surgery-free.html
America's great replacement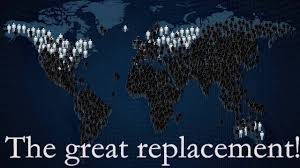 In 2021, over 1,659,000 illegal migrants crossed the US/Mexico border. Actually, the 1,659,000 are 'apprehensions' – illegal migrants the authorities are aware of: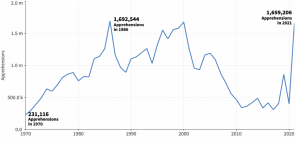 (left-click on chart, then left-click again to see more clearly)
That's over 4,500 new arrivals in the US every single day.
Moreover, we've no idea how many thousands or hundreds of thousands more illegal migrants crossed into the US managing to avoid US border control.
But what does Biden care? This mass of humanity flooding into the US represents another 1,659,000 Democrat voters. I guess the Democrats would rather turn the US into another Venezuela than allow the Republicans to ever win another election.
The UK's great replacement
There were 28,526 people detected arriving on small boats into the UK in 2021. This compares with 8,466 in 2020, 1,843 in 2019 and 299 in 2018. You don't have to be a mathematical genius to spot a trend here.
A certain B. Greening issued a Freedom of Information request to the ludicrously misnamed "Immigration Enforcement" asking how many of those arriving between January 2018 and June 2021 had passports:
https://www.whatdotheyknow.com/request/803649/response/1980627/attach/3/66791%20Greening.pdf?cookie_passthrough=1
The answer was just 317. During this period, about 16,500 illegal migrants crossed the Channel. This means that 98% of these migrants mysteriously managed to cross several countries with passports and then sadly 'lost' their passports just before Priti Patel's Border Farce luxury ferry service picked them up to bring them to Britain.
I'm feeling a bit under the weather today, so I'll let Simon Webb of History Debunked explain how we're being taken for fools by our UK-hating rulers: