Monday/Tuesday blog
The latest Amazon review of my book – THERE IS NO CLIMATE CRISIS
First, I thought I'd mention the latest review of my book – THERE IS NO CLIMATE CRISIS – posted on Amazon:
Reviewed in the United Kingdom on 21 May 2022
Every debunked, over-simplified, pseudo-scientific, quasi-scientific, unsubstantiated, politically motivated myth, excuse and outright falsehood rolled into one easy (very, very easy) read. Useful to know how the tiny minority who make up the other side think (or, in fact, don't)
I guess this reader wasn't impressed!
You WILL take the vaccines!!!!
Here's a nice photo of our favourite Big-Pharma boss – Pfizer CEO Eric Bourla. Eric is pictured with his great chum – EU big boss, Ursula Fond of Lying: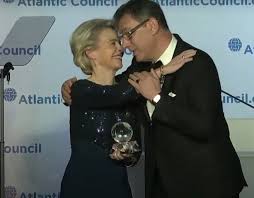 Ursula, as you'll well know, has helped make Pfizer and her friend Eric Bourla rich beyond most people's wildest dreams. Ursula has squandered tens of billions of EU taxpayers' money on Eric's supposed vaccines which, we now know, are only partially effective for a few months and which have killed hundreds of formerly healthy people.
Hopefully you all remember how we were coerced into taking these ineffective and sometimes deadly fake vaccines by mandates forbidding the unvaccinated from travel, entertainment and many other activities. And in some sectors, anyone refusing these ineffective and unsafe supposed 'vaccines' even lost their jobs. Care workers in the UK, for example, were fired if they refused vaccination. Tens of thousands did lose their jobs causing a staffing crisis in the care sector. And then, when care homes could no longer accept more patients, many elderly got stuck in hospitals becoming 'bed-blockers' thus worsening the crisis in the NHS and leading to ever-increasing waiting lists for hospital beds and operations.
All this shows that our rulers have found out how to force most of us to comply by taking whatever dubious vaccines they want to foist on us. But they can't force us to take their medicines, can they?
You WILL take the medicine!!!
Even the conspiracy fanatics couldn't have made this one up.
Here's our friend Eric Bourla of Pfizer again. This time he's taking part in a discussion at a World Economic Forum meeting (probably in Davos?). Eric is explaining that Pfizer have now developed the technology which allows a micro-transmitter to be put in a pill. So, when the pill is ingested, a signal will go to the authorities telling them that you have taken the required medicine.
Here's a very short (slightly over-dramatised?) video featuring our favourite pharmacist extolling this great medical advance:
Even George Orwell couldn't have imagined this level of Big-Brother government control.
W.H.O. rules the world?
A few blogs ago, I warned about a meeting of the World Health Assembly (I didn't even know such an organisation existed, did you?) this week which will hand power to control any new 'health emergencies' to the World Health Organisation (W.H.O.). This will give the unelected, incompetent, China-controlled W.H.O. the authority to instruct national governments how to handle the next 'health emergency'. A 'health emergency' will include pandemics. But using 'scope creep' the W.H.O. bureaucrats might (will definitely?) also widen the concept of a 'health emergency' to include such supposed 'health emergencies' like obesity, food availability, migration or, of course, catastrophic man-made climate change.
I haven't seen this meeting reported anywhere in the mainstream media (apart from GB News). I wonder why not?
Here's the magnificent Neil Oliver reacting to this latest power grab by the unelected globalist elites: