Monday blog
Censored for "misinformation"
Readers might be amused to learn that I have been censored for spreading "misinformation". I posted part of my weekend blog questioning the need to vaccinate babies against the Chinese lab-leaked plague on a business networking site called "LinkedIn".
Within an hour, my article was deleted by the LinkedIn thought-controllers and I got the following message:
"Your article doesn't comply with our policies. Your article goes against our policy on misinformation. It has been removed.
A time of fasting, prayer, reflection and community?
According to that not always reliable source of knowledge, Wikipedia, Ramadan (which ended on Sunday 1 May) is observed by Muslims worldwide as a month of fasting (sawm), prayer, reflection and community. Wikipedia doesn't mention one other feature of this great festival – a tendency for the adherents of our favourite religion to murder each other and us.
I'm sure many readers are avid sports fans and so will be gasping to hear the final score for the 2022 Ramadana-ding-dong murdermania.
Here it is:
As you'll see, the score for 2022 was pretty disappointing compared to 2021: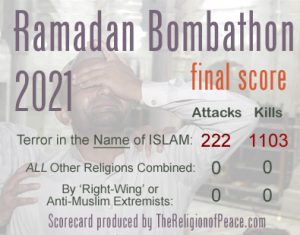 But 2022 was a lot better than 2020: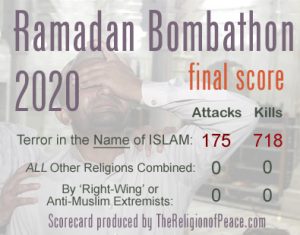 and 2019
and 2018:
However, during the years 2017 and 2016, the lads did really well: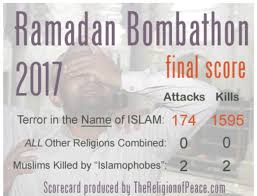 I guess that was because during 2016 and 2017, the team from ISIS/ISIL really upped their scoring rate:
I doubt you'll see these results reported in the sports sections of any of our mainstream media.
For the moment, things are comparatively quiet concerning religious murder and mayhem. But we're already seeing an increase in scores by the ISIS/ISIL lads in Afghanistan as one group of bearded, sandal-wearing crazies (ISIS/ISIL) tries to murder another group of bearded, sandal-wearing crazies (the Taliban).  Moreover, we can expect a massive resurgence of ISIS/ISIL activity in Africa over the next few years. So the Ramadan score should begin to rise again to wonderful 2016 and 2017 levels.
Are we any better?
For years we in the West have been able to distance ourselves from the murderous savagery in many Third-World countries. But given what is now happening in Ukraine, our civilisational and moral superiority seems to be evaporating.