Thursday/Friday blog
I'm afraid it's jabs for kids again today because I believe this story is important.
I just wanted to do two things:
recap two issues from my Tuesday/Wednesday blog
look at a new assault on our kids by the jab-fanatics – Jabberman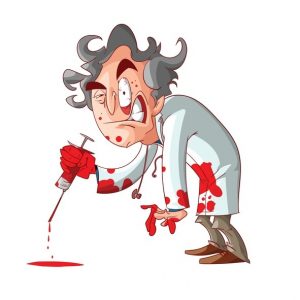 Fooled by the vaccine fanatics? Yet again?
There are two issues which arise from my Tuesday/Wednesday blog:
Issue 1 – At what age should we be vaccinating?
In my Tuesday/Wednesday blog I questioned whether 3 vaccinated children aged between 5 and 11 catching the Chinese Wuhan plague compared to 16 unvaccinated children (out of 1,305 in a trial), really was a sufficiently large statistical sample to justify vaccinating tens of millions of EU children.
I suspect that our vaccine-obsessed rulers have painted themselves into a corner. Having bludgeoned us all into being vaccinated, often using mandates and other forms of coercion, they could hardly admit that the risks of vaccinating children aged 5 to 11 outweighed the benefits.
After all, if our rulers suggested that there was no point vaccinating 5- to 11-year-olds, people might start asking at what age should we not be vaccinating – is really 11 years old? Or could it be 12 or 13 or 20 or 25? And that would open an enormous can of worms as people began to question at what age did the benefits of vaccination outweigh the risks. Then the whole vaccinate vaccinate vaccinate strategy would start to fall apart.
Issue 2 – Does the research really justify vaccinating children?
The research used by the European Medicines Agency (EMA) to justify jabbing children was based on the fact that in a study only 3 of the vaccinated children caught the WuFlu compared to 16 children in the group which received a vaccine placebo. That allowed the EMA bureaucrats to claim that children who were not vaccinated were more than 5 times more likely to get the WuFlu than vaccinated children.
But let's turn the figures round. There were 1,305 children in the study. I guess that about 652 got the real vaccine and another 652 got the placebo vaccine. So, out of the 652 vaccinated, 3 (0.5%) got WuFlu and 649 didn't. But perhaps more interesting is the fact that of those with the placebo vaccine, 16 (2.5%) got the WuFlu and 636 (97.5%) didn't.
Of course, I don't know how long the study lasted and maybe many of those with the placebo vaccine got the WuFlu after the study ended. Our numerically-illiterate politicians and similarly numerically-illiterate mainstream-media journalists enthusiastically and sycophantically swallowed the supposed experts' claims that unvaccinated children were 5 times more likely to get the WuFlu than the vaccinated. But nobody seems to have noticed that 97.5% of the children with the placebo vaccine didn't get the WuFlu either.
Does a WuFlu infection rate of 2.5% of children, none of whom as far as I know had any serious medical problems from the WuFlu, really justify expensively (but profitably for Pfizer and Moderna) vaccinating tens of millions of 5- to 11-year-olds?
I don't think so!
Carry on jabbing and jabbing and jabbing
On Tuesday this week Pfizer and BioNTech announced they have submitted an application to the U.S. Food and Drug Administration for emergency use authorization of a booster dose of their coronavirus vaccine for children ages 5 to 11.
The companies said in a press release that data showed that children under 12 had a "strong immune response" from a booster dose. A third booster shot after six months is believed to raise Omicron-fighting antibodies by 36 times.
Earlier this month, Pfizer released data from their lab study of a third dose. In the study, 140 subjects between the ages of 5 and 11, with no evidence of prior COVID-19 infection, were given a third 10-microgram dose of the Pfizer-BioNTech vaccine at least six months after their second dose of the shot.
One month later, a subset of 30 test subjects showed that the Omicron-fighting antibodies had increased 36-fold. Pfizer and BioNTech claimed that "a robust response was observed regardless of prior SARS-CoV-2 infection."
So, here we go again. We have a supposed study commissioned by a body which benefited from ever more jabbing our kids claiming that we should carry on jabbing and jabbing and jabbing.
And how big was this latest study? Just 140 children of which only 30 apparently displayed a large increase in Omicron-fighting antibodies. I wonder what happened to the other 110?
Meanwhile another study seemed to suggest that developing natural immunity from previous infection was just as good as, if not better than, ever more costly vaccinations:
Tuesday's application to the FDA comes just as a new study from the Centers for Disease Control found that most Americans had been infected with COVID at least once.
Using data from blood tests taken around the country, the CDC determined that 33.5% of Americans had COVID-19 antibodies that developed from infection, and not vaccination, in Dec. 2021. By Feb. 2022, that percentage had jumped significantly, up to 58%.
The biggest increase was in kids under 18 — by February, 75%, or 3 in 4 kids, had COVID-19 antibodies in their system.
Here's the Pfizer big boss with his chum EU big boss Ursula Fond of Lying: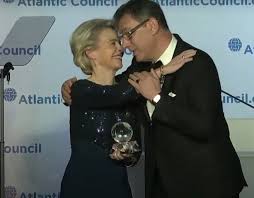 I wonder what this picture is telling us?????
So, watch out kids! The evil Pfizer Jabberman and the supine EU authorities are out to get you!