Wednesday/Thursday blog
More circumstantial evidence?
On March 24. 2018, this proposal was sent to DARPA (Defense Advanced Research Projects Agency) requesting $14 million for Project Defuse – Defusing the Threat of Bat-borne Coronaviruses".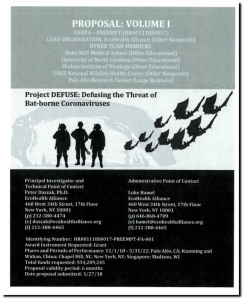 (left-click on image, then left-click again to see more clearly)
Here's a link to the full document:
https://www.documentcloud.org/documents/21066966-defuse-proposal
As you'll see this proposal comes from everybody's friend and the world's most trusted doctor – Dr. Peter Daszak of EcoHealth Alliance. The work would be carried out at three locations Palo Alto in the US and Kunming and Wuhan in China.
Here's the letter which accompanied the request for $14m for Project Defuse: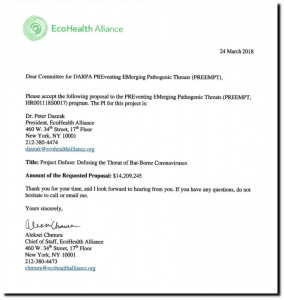 (left-click on image, then left-click again to see more clearly)
Hopefully this makes it quite clear that EcoHealth Alliance were running projects playing around with and doing 'gain of function' experiments with bat-borne coronaviruses at Wuhan?
Think you'll see these documents in our mainstream media?
I'm presenting these documents here because I don't believe any of our mainstream media will go anywhere near them.
I'm not a crazed conspiracy theorist. But it's absolutely clear that there is a conspiracy of silence about the origin of Covid-19 conducted by our rulers, the scientific community and the supinely obedient mainstream media. There seems to be no curiosity at all in how the greatest disaster to strike humanity since WWII originated.
Even worse, there has been a two-year campaign of disinformation run by our leading 'scientists', various supposedly 'scientific' journals like The Lancet and the big tech companies to cover up Covid-19's origins and to brand anyone suggesting a lab leak as dangerous and deranged conspiracy theorists and to silence them using threats to their careers and censoring their views.
Never in human history have so many been lied to so blatantly by their rulers. Or maybe I'm wrong. After all, the whole supposed catastrophic man-made climate change crisis may be an even bigger scandal than the 5 to 10 million killed by the Wuhan lab-leak?