Last blog before Christmas
Best wishes from Santa, Emperor Xi and me
First I'd like to wish all readers a great Christmas from myself, Santa and Lord Xi Pingpong, Emperor of China, Barbados and soon all the rest of the British Commonwealth once the Chinese Communist Party has paid off those countries' corrupt political leaders just as it did when buying Barbados and replacing the Queen as head of state with Emperor Xi: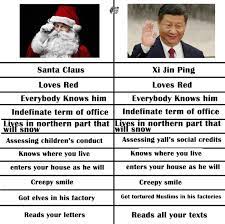 The truth about the Omicron variant?
We keep getting told that the Omicron variant might be 'milder' than previous variants of the Chinese Wuhan lab-leaked plague. But it is the word 'milder' that is more than slightly misleading. The word our rulers should be using is 'different'. I attach a link below to a recent YouTube video by Dr John Campbell. He has been making videos about Covid-19 almost daily since the pandemic started.
In this video he explains why the Omicron variant is quite different from previous variants. The original variants seem to have attacked mainly the lungs causing them to fill up with fluid so sufferers slowly drowned to death or else were killed by the cytokine storm as the body over-reacted to the virus.
As Dr Campbell explains, the Omicron variant affects mainly the bronchial tract leading to the lungs and much less the lungs themselves. While Omicron is more infectious than previous variants, it is giving mainly a form of bronchitis rather than destroying sufferers' lungs. Hence the level of hospitalisations and deaths is much lower. Moreover we have several therapeutic drugs which are effective against bronchitis, whereas we didn't have drugs effective against the lung-destroying previous variants nor against the cytokine storm.
If Dr Campbell is correct, this poses two rather serious questions:
Question 1: Why haven't we been told this?
If Dr Campbell knows this, then those great scientists Whitty and Valance must know this too. So must all of Bunter Johnson's government. Yet, despite our rulers claiming they are 'following the science', as far as I know none of them has mentioned the science explaining the important difference between Omicron and previous variants.
A cynic might be tempted to believe that our rulers are deliberately keeping us in a state of ignorant terror so they can impose whatever restrictions they can dream up rather than sharing the good news that this is probably the last stage of Covid-19 in its original form. This mutation will probably take us from a pandemic to an endemic. Its effect on humans is the virus attempting to survive and it is actually much weaker in the Omicron mutation and it is affecting humans as a common cold would. There is no need for any fear any longer because this is the beginning of the end of Covid as we know it.
Question 2: Doesn't the change in the virus require a change in strategy?
If the virus has mutated from being a lung-destroying killer to a (sometimes severe) form of bronchitis, then doesn't this suggest that our rulers should be changing their strategy for dealing with it? Instead of endless vaccinations, health- and economy-destroying lockdowns and enforced isolation, shouldn't we instead be allowing the virus to let rip in order to build up natural immunity? Shouldn't herd natural immunity be the new strategy?
If the facts change, why is our government sticking to a Big-Brother-state coercive approach which might have been relevant to the previous lung-destroying variants of Covid-19 (though the Swedish experience suggests even that is not true) but is probably not relevant to the much weaker bronchitis-causing Omicron variant?
Anyway, what does an ignorant fool like me know when we have such geniuses like Whitty and Valance now running and ruining our country?
Have a great Christmas.
Here's Dr John Campbell (the key part is from 4 minutes to 16 minutes into the video):