Friday/weekend blog
Hidden censorship blocking my book?
I want to write about money today, big money, big amounts of our money. But first just a brief little story about my latest book THERE IS NO CLIMATE CRISIS.
In March, when I decided to write THERE IS NO CLIMATE CRISIS, I emailed my literary agent asking his opinion. This was before a single word of the book had been written. In spite of my agent not seeing any of the book as nothing had been written then, he emailed me back saying he would not try to sell it to any publisher. His reason (excuse?) was that UK publishers would be too terrified of the woke Twitter and Facebook mob to publish anything daring to question the climate catastrophe cult.
So I had to fork out the £1,000 or so to publish the book myself.
As sales passed 1,000 copies this week, I approached my agent again. This time I suggested we try to sell translation rights for the book. I explained why I believed there would be an international market for the book:
"Over the next few years, there will be a massive political battle fought across the whole developed world. This battle will be between the climate alarmists, who want to impose ever more restrictions, taxes and other costs on ordinary people to supposedly save the planet from a 'climate crisis', and ordinary people who will see their freedoms constrained and their taxes and living costs rise to achieve the climate alarmists' plans for us."
"THERE IS NO CLIMATE CRISIS could become a key weapon in the fight-back of ordinary people against the repressive policies of the virtue-signalling, hypocritical, do-as-I-say-not-as-I-do climate alarmist elites."
But my agent again refused to try to sell the book. This time his reason (excuse) was: "I fear without a UK/US trade publisher and reviews it will be almost impossible to sell abroad and I can't help. Sorry."
I'm struggling slightly to accept this argument and have a feeling that there is a hidden censorship at work by which nobody in the progressive, politically-correct establishment dares have anything to do with a book that could inflame the howling ecofascist social-media mobs.
And before everyone suggests "get a new agent", I should say I am trying but I expect I'll find the same hidden fawningly politically-correct censorship whichever literary agency I try.
Let's give them billions or trillions or squadrillions?
Now to the main subject of today's blog
I don't know if readers have noticed a slight, but important change in one simple word that has been used at the Cop26 Glasgow blether-farce. Up till the start of Cop26, our jet-setting, virtue-signalling, champagne-quaffing, caviar-guzzling elites had repeatedly told us that they would be handing over $100bn a year of our money to supposedly help undeveloped countries deal with the supposedly devastating effects of supposed catastrophic global warming or climate change or climate emergency or climate crisis or climate breakdown or whatever it's called this week.
But in interviews over the last couple of days, the great and good have now started suggesting that fighting climate change will cost 'trillions'. Suddenly, without providing any justification, the word 'billions' has magically been changed to 'trillions'. You don't have to be a genius to guess where these 'trillions' will be coming from – and it won't be from the pockets of the world's jet-setting, preachy, do-as-I-say-not-as-I-do millionaires and billionaires.
Here's a chart showing how the amount of foreign aid we give the Third World keeps rising: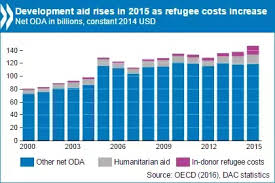 (left-click on charts, then left-click again to see more clearly)
We already give over $100bn a year to the Third World. In 1970 a group of countries agreed to donate 0.7% of their GDP in aid. Since then, the supposedly 'developing' world has received probably over $5trn in aid. I wonder where all that $5trn+ has gone? I wonder where all the hospitals and schools and power plants and roads and water supply and universities and other stuff we've so generously paid for are? All I see are a bunch of AK47-wielding primitives slaughtering each other and destroying anything that is ever built.
Our ruling elites have now even started talking about a new "environmental Marshall Plan" to help the Third World cope with the supposed challenges of the supposed climate change crisis. After WWII, Europe received about $20bn (in today's money) a year for 5 years – $100bn in total. But just Sub-Saharan Africa has been receiving much more than this every year for the last 50 years:
Here's a chart which is perhaps more interesting. It shows aid to Africa and GDP growth in Africa:
It seems that the more aid African countries get (the red line on the chart) the lower their GDP growth (the blue line on the chart). Why? Because the more money each country receives, the more each country's rulers steal for themselves thus reducing investment and growth. As one aid expert, Dambisa Moyo in her 2010 book Dead Aid explained: "The notion that aid can eliminate systemic poverty, and has done so, is a myth. Millions in Africa are poorer today because of aid: misery and poverty have not ended but have increased."
It seems that in Africa, black lives don't matter to African rulers. It's a pity the BLM protestors don't have their stupid riots outside the embassies of black African countries.
So, let's end with the question: If we in the West are stupid enough to allow $100bn a year of our money to be pumped into the offshore bank accounts of the world's worst kleptocrats, do we really believe that our money will be well spent saving Third-World countries from the supposedly 'devastating' effects of supposed catastrophic climate change?
And here, for anyone who hasn't seen it, is my modest video attempt to show what really happens to most of our  foreign aid money: