Wednesday/Thursday blog
Reporting live from Glasgow. Or is it Edinburgh?
This week it's almost impossible to write about anything other than the meteorological-mastubatory mega-farce going on in Glasgow. Though, if you watch CNN, you'll have been told by ace veteran CNN reporter, Wolf Blitzer, that Cop26 is taking place in Edinburgh: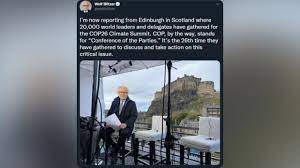 But CNN aren't exactly famed for their accuracy or honesty.
The first two days of the mega-conference were truly a battle of the hyperboles as our 'world leaders' all sought to outdo each other in blethering about how imminent mankind's self-destruction was. We had:
code red for humanity!

last chance saloon!

mankind is digging its own grave!

the doomsday clock is ticking!

we're one minute to midnight!

the earth will become a barren rock if we don't act now!
These are just a few that I heard before I turned the TV off in disgust.
These apocalyptic exaggerations sort of remind me of what the (IMHO) most useless waste of skin in Britain, our very own beloved future king Prince Charles, said 12 years ago at some climate gabfest in May 2009: "We have very little time left – indeed less than 100 months".
Meanwhile Ghastly Greta Doomberg and her adoring, scientifically-challenged disciples were screaming abuse outside the conference centre with such pearls of wisdom as "no more blah blah blah" and "you can shove your Cop26 up your arse!"
Do politicians and journalists know they are lying?
As we're being bombarded with climate-catastrophist nonsense, the question I have is: do the politicians and journalists know they are lying? Or do they really believe that Greta Doomberg is the new Messiah?
Perhaps the most amusing/depressing feature of the current climate farce is the self-promoting, po-faced, hyper-dramatic seriousness with which herds of supposed 'journalists' are reporting the supposed global warming catastrophe. They all seem to be rushing around the world in planes and helicopters to bring us the most frightening reports from places that are supposedly already suffering from catastrophic warming.
Just to put these deadly serious reports into perspective, here's a climate reporter from the 1970s. He's predicting a climate catastrophe from Global Cooling and the coming of a new Ice Age using almost exactly the same self-promoting, po-faced, hyper-dramatic seriousness and same language that today's reporters are using to terrify us about supposed Global Warming:
"The hottest day since yesterday!"
This week there are so many absurdities being vomited out by our media that there's no space in a short blog to list them all. But one is probably worth mentioning: – the claims that (name of a place) is experiencing its hottest/wettest/stormiest/driest (delete as appropriate) weather in (invent a number) of years.
One stupid 'journalist' claimed some town was having its "hottest day for 7 months". Well, that's not surprising as the place (I can't remember its name) was in the Southern Hemisphere and was therefore moving from winter to summer. Clearly the 'journalist' wasn't aware that summers tend to be warmer than winters.
I've just seen a supposed 'journalist' excitedly announcing that some town in Australia, that nobody has ever heard of, has just had its wettest day for 4 years. No doubt this ludicrously irrelevant 'fact' will be trumpeted by climate catastrophists as definite proof of climate change destroying all life on earth.
Another supposed 'journalist' found a town somewhere that was having its hottest day for 75 years. If that's true, then the weather must have been hotter 76 years ago when atmospheric CO2 levels were much lower than they are now. Ooops!
And then, as Tony Heller brilliantly explains, there was somewhere in India or Pakistan having its hottest weather ever. But that was a lie like all the other lies we're being force-fed by the mainstream media as they genuflect and grovel to the jet-setting, holier-than-thou, virtue-signalling elites partying at our expense amid the piles of rubbish and used drug-addicts' needles in Glasgow (or Edinburgh if you watch Wolf Blitzer on CNN).
Perhaps amusingly this particular town had a train which used to carry an empty coffin for the use of any passengers who died of heat during the train journey to the town: