Friday/weekend blog
Covid come back – all is forgiven
Not everything about Dr Frankenstein Fauci's Wuhan lab-leaked plague was bad. After all, Fauci's Chinese lab c**k-up kept the crazed climate catastrophist Greta 'Chucky' Doomberg locked up in her native Sweden for over a year. But as Fauci's Chinese plague declines, the Swedes have unfortunately released Greta 'Chucky' Doomberg on the world again.
Charles Lee "Chucky" Ray is a fictional character and the main antagonist of the Child's Play slasher film franchise. Chucky is portrayed as a vicious serial killer: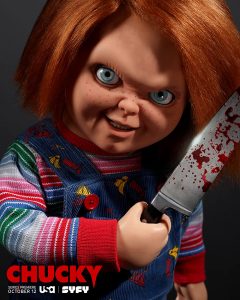 Here is Chucky with his lookalike – grim-reaper Greta: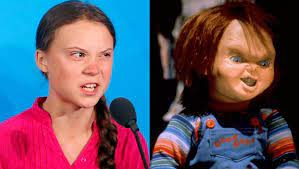 I think Chucky is the one on your left? Or perhaps it's the one on your right? Or maybe it's difficult to tell as they could be identical twins.
Greta's Italian job
Chucky, sorry I meant Greta, has been warming up for her cameo role at our Boris's big international climate catastrophist gabfest – the November Cop26 jamboree in Glasgow – by giving a big speech to her adoring disciples at a youth climate, narcissistic, hot air bletherathon in Milan:
Chucky singled out the UK and US for a supposed lack of action on the supposed 'climate crisis'.
The United States was responsible for 11 per cent of global C2O2 emissions and the UK accounts for around 1.1 per cent. The world's largest polluter, Communist China, was strangely absent from Chucky Doomberg's remarks. The authoritarian regime emitted more than the entire developed world combined in 2019, according to a study from the Rhodium Group, which found that China accounted for 27 per cent of the world's greenhouse gasses:
(left-click on image and then left-click again to see more clearly)
And, of course, Chucky (like all the other West-hating, diversity-adoring eco-fascists) never mentions that CO2 emissions in the West are decreasing as populations decline due to birth rates falling below replacement levels while the populations of the world's worst cess-pit countries are doubling every 20 or so years massively increasing the demand for fossil fuels.
But, in spite of Chucky's mad and erroneous ranting, you can be sure that our  media will fawn over her hailing her as the new Messiah and that our rulers will grovel and genuflect to appease her and compete with each other to see who can destroy their economies and our lives fastest in the developed world's crazed and unnecessary lemming-like stampede to the apparent Nirvana of net zero CO2 emissions.
Intelligent life spotted in Australia?
In the UK, most of our mainstream media now continuously pump out climate catastrophist propaganda. Of course, the lying scum at the BBC and C4 News have always been avid promoters of the crazed climate-crisis doomsday cult. But now even the once respected Times has been recruited to Chucky's great cause. .
Moreover, judging by their comments, most Times readers also seem to be spit-flecked, zealously-believing converts who furiously shout down anyone daring to question whether an increase in a trace gas from 3 parts per 10,000 of our atmosphere to 4 parts per 10,000 over 150 years really is going to wreck the Earth's climate and wipe out the human race.
And most recently, since the death of the excellent climate realist Christopher Booker, even the Daily Telegraph has converted to the world's second most stupid religion (much to the fury of most Telegraph readers).
So, once again, we have to turn to Sky News Australia to find any signs of intelligent life on our planet: