Friday/weekend blog
Britain goes woke and broke?
As the UK rushes headlong towards the 'renewable energy' Nirvana which obsesses our scientifically-challenged, Greta-worshipping rulers, our climate catastrophist media seem somewhat reluctant to mention the practical economically-disastrous consequences.
Firstly, there seems to be little understanding that our energy prices are already over three times those in China and India precisely because we use lots of expensive and unreliable supposedly 'green' supposedly 'renewable' energy:
(household energy prices $/kw/h)
Moreover, calling wind power 'renewable' is farcical given that an average bird-massacring wind turbine reportedly needs at least 500 tonnes of steel, 2,000 tonnes of concrete, 30 tonnes of fibreglass, 15 tonnes of copper and 20 tonnes of cast iron. That's an awful lot of stuff to be manufactured and transported at massive cost to electricity users and the environment.
We can see the economic cost of supposedly 'free' supposedly 'renewable' energy on British businesses:
(left click on charts and then left click again to see more clearly)
I realise that our politicians are incapable of understanding Economics 101. But if UK energy costs rise, UK business become less competitive, companies close down and jobs are exported to countries with lower energy prices. Just this week, two British fertilizer companies shut down as it was uneconomical to produce fertilizer given high UK gas prices.
https://www.thetimes.co.uk/article/energy-crisis-forces-shutdown-of-fertiliser-factories-xjtwz3n7n
So British jobs have been lost and next year we'll probably have to import fertilizer from abroad. I wonder if the Greenies and our political leaders have thought about the economic and environmental effects of that?
Also, at least one UK steel mill has been cutting production – again due to high UK energy prices. And I believe our aluminium industry closed down a few years ago.
Moreover, due to a fire at one of the sub-stations importing French power, this winter we might well see power cuts in the UK for the first time since the 1984 miners' strike.
China's masterstroke?
Connected to the UK's and the West's self-inflicted climate catastrophist economic suicide, we have the rise and rise and rise of an increasingly aggressive communist China.
Here's a nice picture showing the USA's vs China's share of world trade between 2000 and 2020: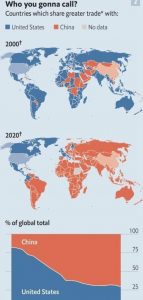 Looks like our ultra-woke, selfie-obsessed, climatically-challenged, politically-correct, gender-fluid, snowflake teenagers had better start learning how to grovel in Chinese.