Wednesday/Thursday blog
Does the news come from another planet?
I guess it's something that comes with age – that one increasingly feels that what is reported in the supposed 'news' seems to come from another planet. Just a few examples:
Giving priority to Afghan animals?
Many media outlets have praised the supposed 'hero' who shipped out about 200 Afghan cats and dogs from Afghanistan to the UK. And Twitter and other such social sewers have been full of vicious attacks on anyone who dares suggest that the 'hero' was just a self-serving, attention-whore. What nobody has mentioned is that (I believe) over 20,000 cats and dogs are killed in the UK each year (I haven't been able to find the exact figure) because nobody wants them. Even the well-known, well-funded Battersea Dogs Home slaughters around a quarter of the animals it receives.
So, what was the point of bringing another 200 strays by plane to the UK? Every one of those strays that is given a home in the UK means yet another UK stray which will be destroyed. Hasn't this occurred to anyone?
Arming our enemies?
And here, in case you haven't seen it, is the list of some of the $85bn of advanced US military equipment Uncle Joe Biden has handed over to the bearded crazies from the Taliban making the Taliban one of the most heavily armed militaries in the world: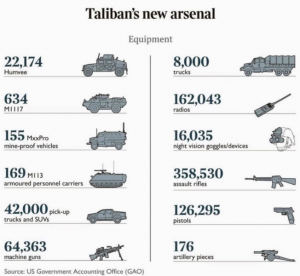 This list is not complete as it doesn't include all the helicopters and planes: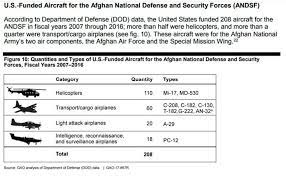 Thanks Joe. That will really make the West a safer place.
Our rulers tell us that we didn't waste 20 years, 450+ lives and thousands of maimed in Afghanistan. Perhaps our enemies – the Taliban –  parading around in captured Western uniforms with the latest Western military equipment would agree?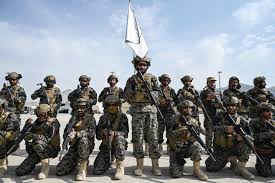 Do we really owe anything to the Afghans?
Over the last few weeks we have been bombarded by the media and our worthless politicians with the message that we are somehow indebted to tens of thousands of Afghans. So we are shipping as many as we can from Stone Age Afghanistan to the UK. And, because many have large families, our taxes will be used to buy up or build thousands of large houses to home all these people.
Western governments have spent the last 20 years and over $1 trillion trying to turn Afghanistan into a modern country. We have built schools, hospitals, dams, power plants, roads and much much more. We've even tried to teach Afghans about diversity, gender fluidity, the importance of using the correct pronouns and catastrophic man-made climate change.
But instead of taking the chance of progress, the utterly corrupt Afghans just milked us stupid Westerners for all the money they could steal from us and, after thousands of Western lives have been lost and all this money has been spent, the Afghans were more than happy to throw all the progress made away and hand over their country to a bunch of medieval savages.
Yes, some Afghans did work for the Western military, NGOs and charities. But that was a straightforward business arrangement whereby they got well-paid jobs that weren't otherwise available. But quite why that should give them the 'right' to come to the West with their huge families is not obvious.
If anybody owes anything to anyone, surely it is the Afghans who owe us for the sacrifices we have made trying to take them from the Stone Age to being a modern democratic, educated state? Our media and politicians tell us we have 'betrayed the Afghans'. As far as I can see, the Afghans have betrayed us.
Moreover (see article/video below) our PM will "move heaven and earth" to find even more Afghans from Afghanistan and from refugee camps outside Afghanistan in order to bring them to Britain.
These tens of thousands of Afghans are in addition to the thousands of illegal immigrants Priti Useless Patel's Border Farce ferry service will pick up from French beaches to bring to Britain.
And not only must we now take tens of thousands of these Afghans into the UK and provide a free ferry service for illegals to come from France to Britain, but our rulers now tell us we must hand over billions in foreign aid to Afghanistan's new rulers – our enemies the Taliban – so that we pay to feed, house and clothe Afghans while the exulting Chinese strip Afghanistan of its vast mineral resources.
Have we gone mad?
https://news.sky.com/story/afghanistan-boris-johnson-pledges-to-shift-heaven-and-earth-to-get-more-people-out-of-country-after-31-august-deadline-12392448