Wednesday to Friday blog
Don't worry – it's not climate change today! In fact, I won't even mention my brilliant new book – THERE IS NO CLIMATE CRISIS: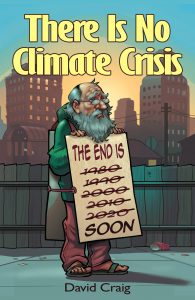 And I won't even ask you to buy a few copies for yourself and any friends, who actually believe the catastrophic man-made global warming nonsense, to help support this website.
The worst epidemic ever to hit Britain?
Many readers may believe that the worst epidemic to hit the UK in our lifetimes is the Chinese Wuhan lab-leaked Fauci-Frankenvirus Covid-19 plague. How wrong you would be. At most only about 15% of the UK population are estimated by the Office for National Statistics (ONS) to have contracted the WuFlu.
Of course, that's pretty bad. But there is a worse epidemic which has struck the noble people of our once great country – the disability epidemic. According to the ONS, 46% of pension age adults claim they are disabled; 22% of all adults claim to be disabled and an astonishing 19% of working-age people are apparently 'disabled':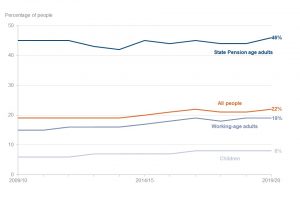 (left-click on the chart once, wait a few seconds and left-click again to see it much more clearly)
Here's what the ONS tells us
A person is considered to have a disability if they have a physical or mental impairment that has 'substantial' and 'long term' negative effects on their ability to do normal daily activities. This is the core definition of disability in the Equality Act 2010.
In 2019 to 2020, 14.1 million people reported a disability, an increase of 2.7 million since 2009 to 2010, where disability was reported by 11.4 million people. The percentage of people who reported a disability in 2019 to 2020 has increased to 22% since 2009 to 2010, when the percentage of people who reported a disability was 19%, a change of three per cent over the period.
So, if you walk down a street, about one in every five adults you see is probably registered as 'disabled'.
Of course, there are people who are genuinely disabled. And we should help them to live as normal lives as possible. But do you really believe that one in five people in the UK are genuinely disabled?
Just as a comparison, in Spain and the Netherlands around one in ten people are classed as disabled. And in Canada and Austria it's about one in seven. So there are apparently twice the percentage of disabled people in the UK compared to Spain and the Netherlands and about 50% more in the UK than Canada and Austria.
From what little I understand, being supposedly 'disabled' brings a double lottery win. You can claim all kinds of benefits for yourself to help you master all the daily tasks that an abled person can do, plus a member of your family or a friend can claim a 'carer's allowance' to look after you.
I would never be so cynical to suggest that many supposedly 'disabled' people are just work-shy, lazy, parasitic benefits scroungers and that governments never clamp down on such people because classing people as 'disabled' enables governments to hide the real numbers of the unemployed.
Horrifying levels of the epidemic in Scrotland and Wales?
A possibly interesting feature of the terrible disability epidemic, which has struck Britain, is how badly this modern epidemic has affected the Scrots and the Welsh:
(left-click on the chart once, wait a few seconds and left-click again to see it much more clearly)
Here's what the ONS tells us:
The number of people in the UK, who reported a disability in 2019 to 2020 was 14.1 million. This means that nationally, 22% of people have a disability, however the prevalence of people reporting a disability varied across the UK.
In Wales, the proportion of people who reported a disability was 27%, five per cent higher than UK national average

This was also the case in Scotland, with 25% of people reporting a disability, three per cent higher than the UK national average
Even our children are affected
A welcome feature of the Fauci Wuhan Frankenvirus is that it hardly affects our children. But the disability epidemic sadly has struck down about one in eight children. Yup, 12.2% of schoolchildren are classed as having SEN (Special Educational Needs) and this number has been increasing every year. So, in a class of say 30 children, between 3 and 4 children will apparently have special educational needs.
A bit like being supposedly 'disabled', having special educational needs brings several kinds of benefits. The school gets more money to help the afflicted children. And the children can get extra teaching, more time to complete exams and even helpers to work with them while they take their exams.
There are rumours – but I haven't seen any figures confirming this – that the children of sharp-elbowed middle-class families are more likely to be considered as having special educational needs than the children of working-class families. If true, this would be odd. After all, a child is a product of heredity and environment. Both these should advantage children of professional, middle-class parents. And I would never be so cynical as to suggest that middle-class families are better at playing the system than working-class families.
So, while we all rightly fret about the terrible toll of the Chinese lab-leaked Wuhan KungFlu, we should perhaps worry even more about the extraordinary disability epidemic that has crippled so many of our fine citizens and their unfortunate children.