Wednesday/Thursday blog
Proof that Australians are smarter than Brits?
Yesterday evening I watched probably the worst crap I have ever seen on a TV. It was the Sky News Climate Show – about 15 minutes of utter and total garbage about how we are all about to die from supposed catastrophic global warming.
It's odd that Sky News Australia has a regular feature called Outsiders Weather and Ice Age Watch. You can find this on Youtube. I highly recommend it. In it, Sky News Australia ridicules all the greeny global warming nonsense. On the other hand, Sky News UK regularly grovels to the climate catastrophists' overblown propaganda and lies.
I imagine that Sky News Australia and Sky News UK both do market research to understand their audiences' Overton Window. The Overton Window is the range of issues their audiences would find acceptable to be reported on. Clearly the research has found that the audience for Sky News Australia are sufficiently intelligent to understand criticism of the climate change nonsense, while the audience for Sky News UK actually believe the climate alarmism rubbish.
Wildfires or wild lies?
One of the items on the Sky News UK Climate Show yesterday evening was a piece about the current forest wildfires in Colorado. Climate alarmist media love wildfires as they present dramatic images of a world supposedly burning up because of greedy, environment-destroying mankind's use of CO2-belching fossil fuels. So, let me use wildfires as an example to show how the media uses wildfires to spread wild lies.
Record levels of wildfires?
Here's an article from the New York Times from April 2016:
It informs us that: "The 10.1 million acres that burned in the United States last year were the most on record". Frightened of global warming burning up our planet?
Well, here's another article from the very same newspaper – the New York Times – from 1938: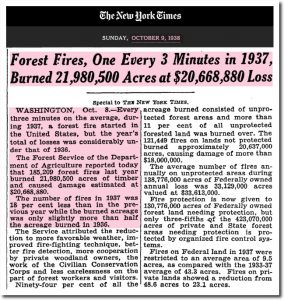 In the 1938 New York Times article we learn that in 1937, forest fires : "burned 21,980,500 acres". That's more than double the supposed "record" level of 10.1 million acres reported by the New York Times in 2016. So, the 2016 New York Times article was just a pack of lies. It was just climate change propaganda. Newspapers used to have people to check articles for factual, accuracy. That's no longer the case as newspapers, and most media, are only interested in spewing out political propaganda.
Just to further prove my point, here's a chart from the United States Department of Agriculture:
It shows that in the blistering hot 1920s and 1930s, around 50 million acres of forest burned each year. So, the claim in the 2016 New York Times article: "The 10.1 million acres that burned in the United States last year were the most on record" is utter and total garbage – lies and lies and lies. Yet we are fed these climate catastrophist lies day after day and now most people seem to believe them.
'Lying' (IMHO) Fauci gets skewered?
And on the subject of wild lies, here's a brief video of the (IMHO) mass-murderer, lying fraud Fauci getting skewered by US senator Rand Paul who is a qualified doctor and worked in medicine before going into politics: