Wednesday/Thursday blog
Yahoo makes Internet 'safe'
About a year ago Yahoo, with whom I have my email accounts, banned commenting on all the articles they published in order to make the Internet 'safer'. Here's the message Yahoo now put under every article:
"Our goal is to create a safe and engaging place for users to connect over interests and passions. In order to improve our community experience, we are temporarily suspending article commenting"
This was meant to be 'temporary'. But after more than a year, this ban on comments is looking rather permanent.
Well done Yahoo! Thank you for making the Internet 'safe'!
Our rulers to make Internet even 'safer'
Of course, Facebook and Instagram and Twitter and others of their ilk have been censoring comments for years. But now our rulers are planning for a world-wide ban on any comments which contradict their rules on what may and may not be said on the Internet.
This means that anyone suggesting transgender freaks aren't real women, or that climate change isn't man-made or a crisis; or that our favourite religion actually isn't terrifically peaceful; or that BLM are a bunch of fascist thugs; or that mass immigration and diversity may not be so great after all; or that not all white people are racists; or that colonialism wasn't all bad and actually benefited many backward Third-world hell-holes; or that the Chinese plague leaked from a filthy, slovenly-run Chinese lab will have their comments censored and will probably be banned from all access to the Internet.
Here's an article from "reclaimthenet.org" which a reader sent me yesterday. If you've got something to say, you'd better say it quickly as soon all free speech will be banned forever.
World Economic Forum makes censorship pledge to "tackle harmful content and conduct online"
A Big Tech-government coalition to control what people see online.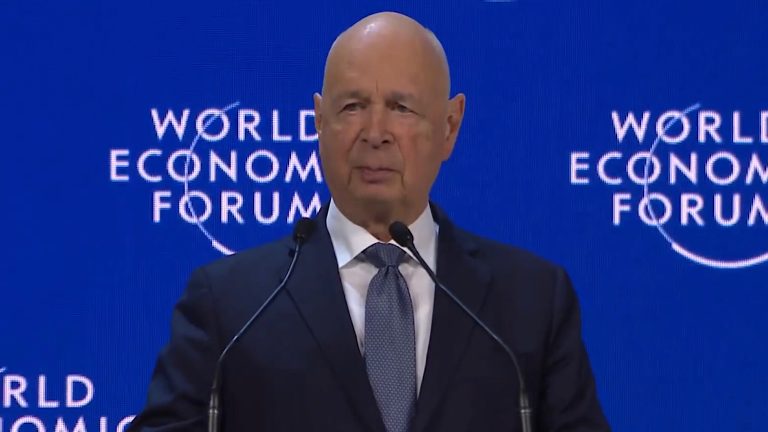 The World Economic Forum, an international group that works to "shape global, regional and industry agendas," has formed a new "Global Coalition for Digital Safety" that's made up of Big Tech executives and government officials and intends to come up with new "innovations" to police "harmful content and conduct online."
The scope of so-called "harmful" content that will be targeted by this Global Coalition for Digital Safety is far-reaching and encompasses both legal content (such as "health misinformation" and "anti-vaccine content") and illegal content (such as child exploitation and abuse and violent extremism).
Big Tech companies already censor millions of posts under their far-reaching rules that prohibit harmful content and misinformation. They also publish detailed quarterly reports about this censorship.
But according to the World Economic Forum, Big Tech's current metrics, recommendation systems, and complaints systems are "deficient" which is why "more deliberate coordination between the public and private sector is needed."
The World Economic Forum intends to deliver this "more deliberate coordination" through its Global Coalition for Digital Safety which will work to tackle what it deems to be harmful content through a series of measures.
These measures include exchanging "best practices for new online safety regulations," taking "coordinated action to reduce the risk of online harm," and creating global definitions of harmful content "to enable standardized enforcement, reporting, and measurement across regions."
The members of this Global Coalition for Digital Safety include officials from the governments or government regulators in Australia, the UK, Indonesia, Ukraine, Bangladesh, and Singapore, an executive from the tech giant Microsoft, and the founder of the artificial intelligence (AI) powered content moderation and profanity filter platform Two Hat Security.
"Global online safety is a collective goal that must be addressed by working across borders as well as by individual nations," Ofcom Chief Executive Dame Melanie Daws said. "We look forward to collaborating with international Coalition members to reduce the risk of online harms and build a safer life online for everyone."
Microsoft's Chief Digital Safety Officer, Courtney Gregoire, added: "The World Economic Forum is uniquely positioned to accelerate the public-private collaboration needed to advance digital safety globally, Microsoft is eager to participate and help build whole-of-society solutions to this whole-of-society problem."
The formation of this global coalition is reflective of tech companies' increased willingness to collaborate with global governments to censor legal content that they deem to be harmful and to push these governments to introduce more expansive speech regulations.
Just a few months before this coalition was announced, YouTube CEO Susan Wojcicki called for global coalitions to address content that's "legal but could be harmful" at the World Economic Forum Global Technology Governance Summit 2021.
And last year, Facebook CEO Mark Zuckerberg, pushed for "more guidance and regulation" from world leaders on what people are allowed to say online.
Similar global coalitions that have attempted to create global censorship standards, such as the Global Internet Forum to Counter Terrorism (GIFCT), have resulted in the automated censorship of satire, media reports, and other types of legal content.