(Monday to Thursday blog)
I'm currently doing the research for my next book THERE IS NO CLIMATE CRISIS: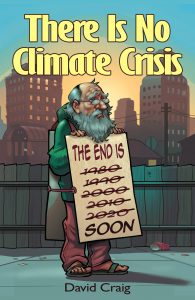 I hope to finish my research by the end of April and finish the book by the end of June.
I assume no publisher will dare take my book as they'll be terrified of the cyber-pitchfork wielding Twitter mob attacking them for publishing anything that goes against the woke narrative that global temperatures are shooting up because of CO2 emitted by human activities – mainly burning fossil fuels. So I'll probably end up publishing my book myself.
In my research I've found that the best way to show that the whole idea of CAGW (Catastrophic Anthropogenic Global Warming) is based on a misunderstanding of science, data manipulation, and outright lies is to compare what the CAGW alarmists claim now with newspaper articles and official reports written during the last 150 years.
For example, here's the (in)famous Hockey Stick graph which multi-millionaire (fortune estimated at $300m) climate activist Al Gore and the alarmist mob use to justify their predictions/prophesies of the end of the human race as we all fry in a burning hell that we will have created:
The graph supposedly shows global temperature (the red line) and atmospheric CO2 levels (the blue line) for the last 1,000 years. Looking at the graph it's supposedly clear that there is a direct relationship between temperature and Co2 levels. I won't spend time here explaining why the graph is more than misleading as it's based on just one type of tree rings in just one small location and is contradicted by almost every other study and by historical records.
But here is a report about global food production from the US National Oceanic and Atmospheric Administration (NOAA) from 1974:
In the report it says:
Most forecasts of worldwide food production have been based on the assumption that global weather will stay:
"Many climatologists have associated this drought and other recent weather anomalies with a global cooling trend and changes in atmospheric circulation which, if prolonged, pose serious threats to major food-producing regions of the world"
"In India, for example, before the global warming trend of 1890-1940. severe drought struck about once every four years. With the warming, however, and more abundant monsoon rains, drought came only once every 18 years or so, greatly increasing India's grain production." Annual average temperatures over the Northern Hemisphere increased rather dramatically from about 1890 through 1940, but have been falling ever since. The total change has averaged about one-half degree Centigrade"
"A study of the past reveals that the Earth's climate is highly variable—indeed, that variability is one of its fundamental characteristics
Now let's look at human CO2 emissions:
You'll see that human CO2 emissions did start rising sharply around 1900, but really started hitting eye-wateringly high levels after the 1940s in the great industrialisation that followed World War 2. Yet, as the 1974 NOAA report confirmed, temperatures started falling from the 1940s till 1974 just as anthropogenic CO2 emissions were shooting up.
If man-made CO2 is really causing catastrophic global warming, then it's odd that global temperatures can fall for around 30 years while CO2 emissions are increasing so rapidly.
I don't have room here to debunk the whole CAGW scare. This is just a tiny foretaste of what I'll be exposing in my next book – THERE IS NO CLIMATE CRISIS