(Monday blog)
Is CO2 really a significant part of the Earth's atmosphere?
Here's a rather important graphic: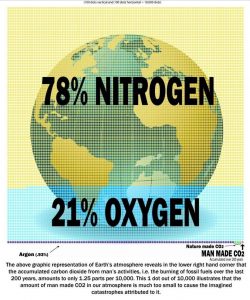 It shows the proportion of man-made CO2 in the Earth's atmosphere. The man-made CO2 is that tiny little section in the lower right-hand corner.
The Greenies and Ecoloons and Extinction Rebellion cultists like to try to terrify us with charts showing a massive rise in CO2: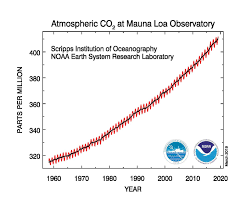 But CO2 is just a trace gas that makes up so little of the atmosphere that it can only be measured in Parts Per Million (ppm).
It's true that CO2 in the atmosphere has increased from around 370 ppm in 2000 to 412 ppm today. So that's 42 more ppm in 20 years – about 2 ppm per year. If you had a salary of say £30,000 and I was to generously give you a 2 ppm pay rise each year for 20 years, you'd be getting about £0.06p more a year – 0.5p more a month – salary increase. Probably you wouldn't consider a 6p a year pay rise particularly significant. Yet the Warmies want us to believe that a minuscule annual increase of 2 ppm of CO2 in the atmosphere will destroy all life on Earth.
This truly is lunacy.
The chicken or the egg – which came first?
Here's another rather important chart: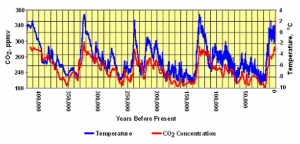 (to see the chart more clearly, left-click on it and then left-click again)
It shows the temperature (the blue line) and the atmospheric CO2 concentration (the red line) for the last 420,000 years taken from Antarctic ice core sampling.
The crazy Greenies (one of whom, it has been reported, occupies an important but unelected position in 10 Downing Street) and the mainstream media claim that the Earth's temperature is now being driven by rising levels of atmospheric CO2. So here's the inimitable Tony Heller explaining that the opposite is actually happening – that levels of atmospheric CO2 are a function of the Earth's temperature – the more the Earth warms mainly due to increasing levels of solar activity and Milankovitch Cycles the more CO2 is released into the atmosphere and then when the Earth cools mainly due to falling levels of solar activity and Milankovitch Cycles the more CO2 is absorbed by the oceans:
https://realclimatescience.com/2020/11/new-video-non-consensus-science/
(you have to scroll down a little to see the short video)
It's rather worrying that, when we finally emerge from the catastrophic economic and social destruction caused by Xi Pingpong's Chinese plague, the moronic Greenies will destroy what little is left of our economy due to their crazed but deliberate, politically-motivated misunderstanding of science.