(Monday blog)
Here's a picture of a Bangladeshi man – Shahudunnabi Juwel – according to an Indian newspaper: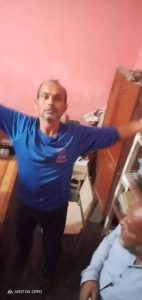 He was reportedly "Mentally Imbalanced".
Reportedly accompanied by his friend Sultan Jubaer Abbas, Shahudunnabi Juwel had gone to Burimari Jam-e Masjid (a mosque) to offer Asr Namaaz (a prayer).
Tripadvisor informs us that Burimari Jam-e Masjid is an 18th-century mosque, located in the Bazra Union under Sonaimuri Upazila of Noakhali District, Bangladesh. It has been described as the "Most Notable Historical Monument" in the area around Noakhali. Beautiful design and architect of the main building is attractive. The mosque was built by Aman Allah in 1741-42 during the reign of the Mughal emperor Muhammad Shah. Between 1911 and 1928, Bazra Zamindars Khan Bahadur Ali Ahmad and Khan Bahadur Mujir Uddin Ahmad had it extensively repaired and decorated with mosaics made from colored shards of ceramic.
But unfortunately for Shahudunnabi Juwel, someone at this world-famous mosque claimed he had somehow committed blasphemy by insulting the Prophet or the K*ran or whatever.
So, here's Shahudunnabi Juwel after his visit to the mosque: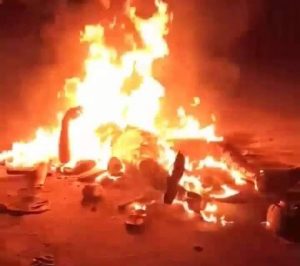 This was after he had been beaten to death and burnt in the middle of the street at Lalmonirhat for allegedly hurting the sentiment of the world's most tolerant religion.
It's not just French teachers who can find themselves with an early one-way ticket off this earth if they're not extremely careful about how they interact with the religion we all admire above all others:
4,000 deaths a day? Or more bollox from the 'experts'?
Here we go again. Another lockdown, tens of thousands of businesses destroyed, hundreds of thousands losing their jobs and probably their homes; economic and social devastation – all because a bunch of supposed 'experts' on huge public-sector salaries and guaranteed pensions have produced yet more dodgy models.
We were menaced this time with the claim that there could be up to 4,000 deaths a day. But not all the models actually back up the "4,000 deaths a day" claim: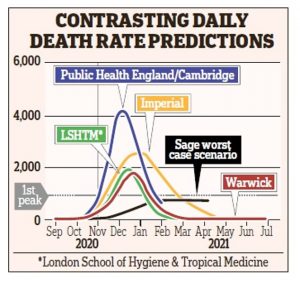 Moreover, the highest number of daily deaths so far was on April 21 when there were just 1,224 Chinese plague deaths. Since then, our medics understand much more about the Xi Pingpong's plague and have learnt how to treat it more effectively. So, one might wonder why the 'experts' are now predicting death rates of up to 4,000 a day – more than three times as high as during the worst day we've had so far.
A panicked Boris Johnson was parroting the grim "we can expect 4,000 deaths a day" to justify the new lockdown. But these figures were based (as far as I understand) on simple mathematical projections (doubling every x days) and not on the actual infection curves of previous viruses. In fact there are indications that the number of infections was levelling off before the latest catastrophic decision by possibly the most incompetent government in British history.
Here's hoping for the result that can save western civilisation?