(weekend blog)
Australia's fascist biased BLM-loving police?
Yesterday I wrote a blog about how the Australian state of Victoria sent its police to arrest a pregnant woman for supposed "incitement". Her 'crime' was to write something on Facebook encouraging people to take part in a protest about Victoria premier Daniel 'China' Andrews's draconian State of Emergency lockdown laws.
But it seems to me that Daniel 'China' Andrews and his police are a bunch of lying, fascist, hypocritical scum. Here are two photos from the State of Victoria:
The first shows Daniel Andrews's police taking the knee to a BLM protest. About 10,000 protestors took part to voice their outrage about the US killing of worthless, dangerous, drug-addict and career criminal George Floyd whose death hugely improved the human gene pool. Only three of the 10,000 or so BLM protestors were arrested for public order offences.
The second photo shows the woman who was arrested just for making a comment on Facebook about possibly attending a protest against (IMHO) lefty fascist Daniel Andrews's Nazi-like clampdown of people's freedoms.
I think these photos show clearly the bias of (IMHO) total scumbag Daniel 'China' Andrews and his politicised police.
As for the Australian police – it seems they're becoming just as much a laughing stock as the Asian-rapist-ignoring, BLM-knee-taking, face-mask-Nazi, utterly useless British police. But on a more serious note – we've given our police so much power over our freedoms during Xi Pingpong's Chinese plague pandemic that one could wonder if they will ever give us our freedoms back again
Lying mainstream media liars' lies to slander Trump
As the US election hots up, the Democrat-loving, Trump-loathing establishment in the US and the UK is really pulling out all the stops to discredit Trump with any lies they can think of.
This week the two biggest lies were probably the mainstream media claiming:
Trump was encouraging voters to vote twice thus breaking the law
Trump called dead US soldiers "losers"
The "vote twice" lie
Here's just one of the many reports claiming Trump encouraged voters to break the law by voting twice: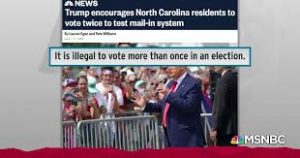 And here's what Trump really said:
What Trump actually suggested was that voters using a postal vote should also go down to their local polling station to check whether their vote had actually been counted or had been lost/delayed by the post or destroyed by Democrat-loving, Trump-loathing local election officials. Trump went on to suggest that if the postal vote had been delayed or had mysteriously 'disappeared', the voter should vote again to ensure their vote was included. At no time did Trump propose that anyone should break the law by voting twice.
Yet CNN and MSNBC and the BBC and C4 News and many other media carried the blatant lie that Trump was telling people to vote twice.
Blatant liars' blatant lies!!!!!
Trump calling dead soldiers "losers"
Apparently there was an article in a magazine called "The Atlantic" which quoted unnamed sources to claim that Trump had called dead US soldiers "losers". Just like the "Trump told voters to vote twice" lie, the Atlantic story was quickly picked up and repeated by most of the Trump-loathing mainstream media.
Here's the brilliant White House press spokesperson Kayleigh McCenany rubbishing that pack of mainstream media lies: