(Thursday/Friday blog)
We're at war and we don't even know it
Sun Tzu was a Chinese general, military strategist, writer and philosopher who lived in the Eastern Zhou period of ancient China. Sun Tzu is traditionally credited as the author of The Art of War, an influential work of military strategy that has affected both Western and East Asian philosophy and military thinking and is popular with aspiring business executives who see themselves as courageous fighters rather than just being over-paid, over-pensioned bureaucrats.
Sun Tzu once wrote, "If one party is at war with another, and the other party does not realize it is at war, the party who knows it's at war almost always has the advantage and usually wins."
That brings us to a book called UNRESTRICTED WARFARE written in 1991 by Major General Qiao Liang and Wang Xiangsui of the Chinese People's Liberation Army (PLA).
I haven't read UNRESTRICTED WARFARE and have no intention of reading it. But from what I understand the book discusses how China can fight and defeat a militarily and technologically superior America.
(You have to remember that in 1991, America was clearly the dominant world power. Nowadays, as the US tears itself apart, one might be forgiven for wondering whether China had already overtaken America as the world's military and economic powerhouse.)
The two PLA officers who wrote the book argue that China couldn't defeat America militarily in a 'hot war'. Instead they propose that China should defeat the US in a 'hidden war' – by impeding America's ability to wage war and to defend itself against a barrage of attacks against its economy, its civil institutions, its governmental structures, and its actual belief system. UNRESTRICTED WARFARE is not a manual for achieving an overnight victory. Rather, it is a recipe for a slow but inexorable assault on an enemy's institutions, often without the enemy's knowledge that it is even being attacked. And this seems to have been China's strategy – wage war on America in particular and the West in general while we were unaware we were being attacked.
And this strategy has been remarkably successful:
tens of millions of US and Western manufacturing jobs have been lost to China
the West is now dependent on China for many basic goods that we no longer make
over 80% of US antibiotics are made in China
China now controls about 80% of the world's rare earth metals:
China owns large tracts of agricultural land in Australia and has been buying up Australian water resources
China has major shareholdings in 12 European ports
Chinese companies (controlled by the Chinese Communist Party) own at least four major US energy companies as well as many other US companies and massive amounts of real estate in the US
Trump, for all his faults, is the only western leader who has understood the threat that China poses to our civilisation.
Belt and Road colonialism
Perhaps China's greatest weapon of conquest is its Belt and Road initiative (BRI):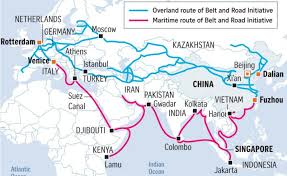 The BRI will make China the world's dominant power in natural resources control, manufacturing and trade.
China is using its BRI to acquire land, ports, airports and other infrastructure around the world through 'debt-trap' diplomacy. China bribes corrupt Third-world politicians to get their countries to borrow money (that can never be repaid) from China to allow Chinese construction companies using Chinese workers to build ports, power stations, railways, roads and other infrastructure. Then, when the money can't be repaid, China takes control of the infrastructure.
The list of ports, railways, power companies, agricultural land, mines, railways around the world that have fallen into Chinese hands is too long to include here. But here are just a couple of recent examples: In December 2017, for example, thoroughly corrupt Sri Lanka handed control of the newly-built port of Hambantota to a Chinese operator in order to satisfy part of its significant debt to Chinese lenders and in 2019 the Kenyan port of Mombasa looked like it too would fall into Chinese hands
Domination, not democracy
Because we in the West tend to see the world through a western point of view, we totally misunderstand that other peoples have very different philosophies and very different priorities from us.
Remember the supposed 'Arab Spring'? We assumed our Arab friends wanted freedom and democracy and human rights and suchlike. In fact, when freed from dictatorial control, all they wanted to do was turn their countries into violent, filthy, poverty-stricken hell-holes where they could happily slaughter each other due to ancient tribal rivalries and obscure differences in the way they interpreted their extremely peaceful religion:
And our Arabian friends weren't particularly interested in women's rights or the rights of LGBTQ++ either: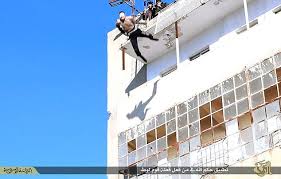 In Arab countries many gays turn out to be 'high flyers', but not quite in the way they want.
Now we're making exactly the same mistake with China. We assume that the Chinese people want western-style freedom and democracy. We assume that the Chinese Communist Party is an unpopular oppressor. But we're wrong about China just as we were wrong about the Arab Spring:
Most Chinese are fiercely nationalist
Many Chinese see western democracy as chaotic and self-destructive
Most Chinese credit the Chinese Communist Party for bringing increasing prosperity
Most Chinese believe the narrative that the time has come to end the "Century of Humiliation", also known as "the hundred years of national humiliation". This is the term used in China to describe the period of intervention and subjugation of the Chinese Empire and the Republic of China by Western powers, Russia and Japan in between 1839 and 1949
Most Chinese believe that the group is much more important than the individual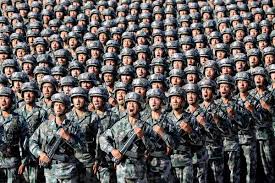 Most Chinese believe that with its 1.4 billion population, China should be the world's dominant power.
So for many Chinese achieving China's world domination is much more important than any ideas of western-style individualism and democracy and free speech and suchlike.
What about the Chinese Covid-19 plague?
I believe (but I haven't read the book) that UNRESTRICTED WARFARE also mentions the possibility of using biological weapons to destroy the West's economies and even societal structures. I don't believe that the current Coronavirus was deliberately released. But I believe it is reasonable to assume that the Covid-19 virus and the other 2,000+ viruses collected and being experimented on by the Wuhan Institute of Virology were being studied for both civilian and military purposes and that Covid-19 was accidentally released from the Wuhan Institute of Virology by failure to follow biosecurity procedures.
But whether the Chinese Covid-19 plague was released deliberately or not, it's doing a pretty good job of decimating the West while allowing China to massively increase its economic, military and political power around the world.
And here, for anyone who hasn't seen it is my short YouTube video – The Wuhan Song: