(Sunday/Monday/Tuesday blog)
Do "Black Lives Matter" in Sadiq Khan's lawless London?
On Friday there were another couple of stabbings in London leaving one teenager dead and another badly injured. But is this really news? After all, under the (IMHO) greasy, second-hand car salesman lookalike mayor, Sadiq Khan, knife murders seem to have become the most popular sport for the unbelievably multi-culturally enriched inhabitants of our wonderful capital city. If stabbing were an Olympic sport, London would definitely be one of the favourites to win.
Here are just a few of the 135 murdered in Khan's London in 2018:
And here are just a few of the 149 murdered in Khan's London in 2019
Yup. Very few of those killed seem to be white ethnic British. The picture is similar for murders in 2020 so far.
Here's a breakdown of the race of the murder victims and suspects up to November 2018: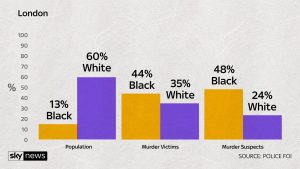 Although our black friends only make up around 13% of London's population, 44% of those murdered in 2018 were Blacks and 48% of murder suspects are Blacks. The other 21% of victims and 28% of murderer suspects were from other enriching ethnic groups.
In total (up to November 2018) 65% of murder victims and 76% of murder suspects were from a multi-coloured enriching background:
Khan's Gangs of London
While looking into the ever-increasing number of stabbings of mostly coloured 'Londoners' I found out something that I hadn't known before. There are apparently between 200 and 260 gangs in London – all controlling their own territories and all well-armed to prevent any other gangs encroaching on their turf.
Here are just 65 of the larger gangs: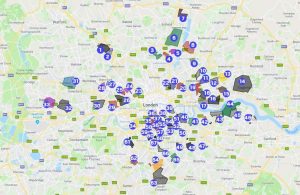 (To see the map more clearly, left-click on it once and then left-click on the map again)
1. DBG 2. 9th Street 3. 22GZ (Wood Green) 4. OFB (Broadwater Farm) 5. Sin Squad/ NPK 6. #900 7. #AP / GMG 8. CHINGBLOCK 9. DRIVE 10. #LEYTONSTONE, 11. 7th 12. 12th Manor Park 13. iLLMADE 14. 8910 15. Barking 16. 6th gang 17. Custom House Gang 18. 13th gang 19. 15th gang 20. #HOMERTON 21. London Fields 22. Holly Street 23. Lisson Green Mandem/ Edgeware Road Boys 24. ER 25. Harrow Road Boys 26. 1011 27. ICB (Ice City Boys) 28. SUSPECT GANG (USG) 29. 12World/12Anti 30. 3rd Set 31. N-GANG 32. Southall 33. Hayes 34. 37/OJB 35. 17/PriceyWorld/Wano Rd. 36. KuKu/BP 37. Moscow 17 38. AY gang 39. B-Town 40. Ghetto Boys 41. 10th (G-Town) 42.OCB/YCB (Cherry Boys) 43. Woolwich Boys 44. GS (Greenside) 45. AWB (Abbey Wood Boys) 46. Parkside 47. BSIDE 785 49. 23 #GMASH 50. AR (ARMED RESPONSE) 51. Monson Bloodset 52. Queens Road NM/23 53. PR15/NBR 54. Zone 2 55. 198 BLOCK 5 56. 410 gang 57. Cassava 58. MBlock 59. Claptown 60. 67 Gang 61. 417 Tooting 62. #Mitcham 63. CRO 64. CR7 65. M20/SMG
Around just one estate in North London, the Elmington Estate, there are at least ten gangs all fighting for rights to drug-dealing and to raping any girls in the area:
Apparently any girls refusing to have sex with multiple gang members or refusing to be filmed on a mobile giving a blow job to a gang member to be posted on social media to enhance that gang member's reputation for being tough and attractive to girls risks a beating, stabbing and even death.
What does Mayor Sadiq Khan say? Not much!!!!!
London's great mayor, Sadiq Khan, has been ever so brave when criticising US President Trump. But he hasn't been quite so vociferous in explaining why ever-increasing numbers of multi-cultural enrichers are being murdered on the blood-soaked streets of Khan's London.
But as most coloured murder victims in Khan's London are being murdered by other coloured people, perhaps Mayor Khan isn't too keen to mention them. Perhaps (as is the case in the USA) when Blacks are killed by other Blacks, their black lives don't matter at all. In fact, when Blacks are slaughtered by other Blacks, they are an embarrassment to the Black Lives Matter protestors. Apparently only the lives of Blacks killed by Whites matter.
And here, for anyone who hasn't seen it, is a short video I made last year about "Khan's blood-soaked streets of London"