(Friday/weekend blog)
Why don't the mainstream media mention the 1996/7 Wuhan flu?
There are many strange things about media reporting of the current 2019/20 Chinese Covid-19 flu.
One is the apparent desperation of the mainstream media and all the supposed 'scientists' they interview to insist that the current flu is "zoonotic" – that it naturally developed in animals (bats?) and then spread to humans courtesy of the Wuhan 'wet market'. Anyone suggesting that the current Covid-19 plague was accidentally released from one of two virus research institutes in the Chinese city of Wuhan due to carelessness and poor hygiene by the dirty, corrupt, lying, disease-ridden Chinese is dismissed as a tin-foil-hat-wearing, mentally-unhinged conspiracy theorist.
But here's an article from a US newspaper in 1996: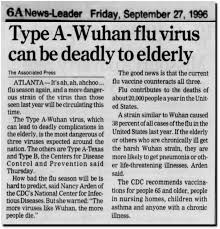 And here's a link to some scientific stuff about the 1996/7 Wuhan flu outbreak
https://www.fludb.org/brc/fluStrainDetails.spg?strainName=A/Wuhan/359/95(H3N2)&decorator=influenza
Dirty, careless, corrupt, disease-ridden Chinese?
We know there are two research institutes in Wuhan – the bio-safety level-2 Wuhan Centre for Disease Control and the bio-safety level-4 Wuhan Institute of Virology.
We know that the bio-safety level-4 Wuhan Institute of Virology was built with French help in a deal approved by Michel Barnier (currently the EU Brexit negotiator) when he was the French foreign minister. At the time, the project was given the go-ahead despite strong opposition from French diplomatic and security advisers, who argued that the Chinese reputation for poor bio-security could lead to a catastrophic leak.
We know that the website of the bio-safety level-4 Wuhan Institute of Virology that a Dr Peng Zhou was conducting research into how viruses like Ebola and Coronavirus could be carried by bats without the bats becoming ill:
"Taking bats as the research object, I will answer the molecular mechanism that can coexist with Ebola and SARS- associated coronavirus for a long time without causing disease, and its relationship with flight and longevity."
We know that the US was helping fund research at the bio-safety level-4 Wuhan Institute of Virology and that this funding was stopped in 2014 over fears of a leak from the Institute: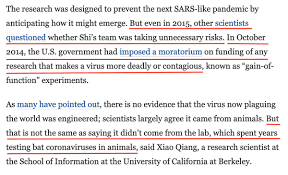 We know that US diplomats visited the bio-safety level-4 Wuhan Institute of Virology in 2018 and were so worried by what they saw that they sent cables back to Washington warning of poor hygiene practices and of a potential leak from the Institute:
https://www.washingtonpost.com/opinions/2020/04/14/state-department-cables-warned-safety-issues-wuhan-lab-studying-bat-coronaviruses/
And we know that the corrupt Chinese Communist Party tried to hide the existence of the Wuhan Covid-19 plague by censoring any mention of it, arresting any doctors who tried to sound the alarm and putting pressure on the utterly corrupt and discredited World Health Organisation to downplay the virus giving the Chinese time to spread it around the world before anyone realised what was happening.
As for the Wuhan Centre for Disease Control – they produced a short documentary film in 2019 boasting about how they had managed to collect over 2,000 different viruses from bats to study in their research. In this film we see the researcher handling bat viruses without proper protective equipment.
What a coincidence! (not)
Here's the inimitable Tony Heller discussing the extraordinary 'coincidence' of two deadly flu epidemics both starting in the city of Wuhan which just happened to be the centre for Chinese research into viruses: