(Sunday/Monday/Tuesday blog)
Thanks to a reader for alerting me to this story
Lewis Hamilton bravely speaks out against slavery
British motor-racing champion Lewis Hamilton has been outspoken in his support for Black Lives Matter and for the removal of any racist symbols: "I challenge government officials worldwide to make these changes and implement the peaceful removal of these racist symbols".
Commenting on the vandalism against a statue of a slave trader and philanthropist in Bristol, Lewis Hamilton has also demanded that there should be a "memorial for all those he sold, all those that lost their lives!"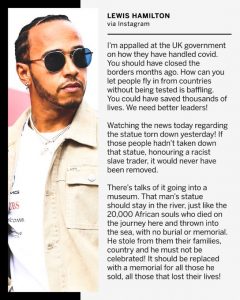 Here's Lewis Hamilton wearing his Mercedes cap: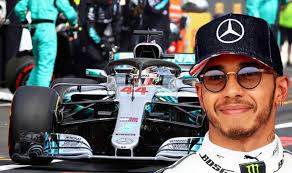 I believe Lewis Hamilton is paid over £50m a year (including bonuses) by Mercedes and has amassed a fortune of over £200m thanks largely to German company Mercedes.
So let's take a moment to look at the slightly dodgy or even racist, slave-owning and slave-murdering past of Hamilton's main current paymaster – German car-maker Mercedes.
Mercedes/Daimler-Benz's appalling history of slavery and mass murder
Here's a quote from the official Mercedes/Daimler-Benz website:
As staff numbers were still too low, Daimler-Benz also used forced labourers. These prisoners of war, abducted civilians and detainees from concentration camps were housed close to the plants….Workers from eastern Europe and prisoners of war were interned in barrack camps with poor, prison-like conditions. Concentration-camp detainees were monitored by the SS under inhumane conditions. They were "loaned out" to companies in exchange for money. In 1944, almost half of Daimler Benz's 63,610 Daimler Benz employees were civilian forced labourers, prisoners of war or concentration-camp detainees.
Daimler-Benz, owners of Mercedes, actually supported the Nazis prior to Hitler's rise, taking out full-page advertisements in the Nazis' newspaper, the Volkischer Beobachter, and utilizing slave labor to supply military material to the Nazis: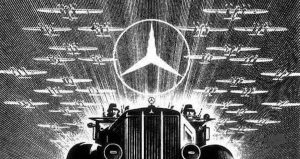 When in 1945 it became clear that their involvement would be exposed by Allied intervention, Daimler-Benz reportedly even attempted to have all of its slave workers rounded up and gassed to prevent them from talking.
What do you think about that, Mr Hamilton?
Worse still, long after the war Mercedes/Daimler-Benz seemed to have continued to be strong supporters of Nazi mass-murderers. For example, when one of the main organisers of the Holocaust, Adolf Eichmann, escaped from Europe to Argentina with the enthusiastic help of the German Catholic Church, he soon got a job with a Mercedes factory in Argentina where he rose to become a Head of Department. He probably would have been promoted further if he hadn't been kidnapped by a squad from Israel's Mossad in 1960. The Israelis drugged him, bundled him on to an El Al plane dressed as a flight attendant and took him back to Israel where he was tried and hanged for crimes against humanity.
Mass murderer Eichmann's successful career with Mercedes in Argentina until his 1960 kidnap sort of undermines Mercedes/Daimler-Benz's bleating after the war that they didn't really support the Nazis, slave labour and the Holocaust.
If ever there was a company linked to slavery, racism and mass murder, Mercedes pretty much fits the bill.
What do you think about that, Mr Hamilton?
Is Lewis Hamilton's other boss a slave-owner and slave murderer too?
In 2011 the German fashion firm Hugo Boss apologised for its maltreatment of forced workers during World War II when it supplied the Nazis with uniforms. It issued the apology to coincide with the publication of a new history of the company during the Hitler years, which it commissioned itself. The book commissioned by the company (laughably IMHO) claims that the company used only around 100 French and Polish slaves and claims that the company made great efforts to ensure their workers were well-fed and well looked after. But given that over ten million Germans would have worn military uniforms during the Nazi years and given that Hugo Boss was a major supplier of uniforms, especially to the SS, one could surmise that Hugo Boss actually exploited many thousands of slave labourers, many of whom were probably starved, beaten or tortured to death or else killed on death marches or just for fun.
I think this picture may be Hugo Boss meeting his hero – Adolf Hitler: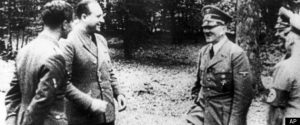 Hugo Boss apologists claim that the company was forced to cooperate with the Nazis in order to survive. But company founder Hugo Boss, was a loyal Nazi who actually joined the Nazi Party in 1931, two years before Adolf Hitler came to power, receiving the membership number 508 889, and a sponsoring member ("Förderndes Mitglied") of the Schutzstaffel (SS). He also joined the German Labour Front in 1936, the Reich Air Protection Association in 1939, and the National Socialist People's Welfare in 1941. He was also a member of the Reichskriegerbund and the Reichsbund for physical exercises. As one commentator wrote: "It is clear that Hugo F Boss did not only join the party because it led to contracts for uniform production, but also because he was a follower of National Socialism".
Until the firm Hugo Boss withdrew from sponsoring the Mercedes Formula 1 racing team in 2018, Lewis Hamilton was a brand representative for slave-owning and slave-murdering Hugo Boss: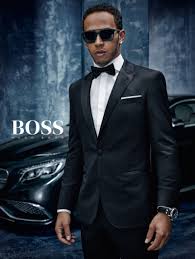 What do you say Mr Lewis Hamilton?
Until four weeks ago, Monaco-based Lewis Hamilton's massive enrichment from two companies that owned, exploited and murdered tens of thousands of slaves wouldn't have been a problem. After all, many British people now buy cars and other products from former enemies and slave-murderers Germany and Japan. But surely, if Mr Hamilton is going to demand that institutions cut all links to people who owned slaves about 300 years ago and that all symbols of that slavery be removed, then he should not promote and should not take tens of millions from companies that owned and murdered slaves only about 80 years ago?
I'm sure that Mr Lewis Hamilton is an honourable man.
Therefore I expect Lewis Hamilton to:
immediately cut all links with slave-owning, slave-murdering, fascist-supporting Mercedes
apologise for ever having promoted and worked for slave-owning and slave-murdering Mercedes and Hugo Boss
promise to never again wear any item with the Mercedes logo as it is what Lewis Hamilton himself would call "a racist symbol" in addition to being a symbol of slavery and mass murder
promise to never again buy or wear any item of clothing produced by the slave-owning, slave-murdering Hugo Boss company
personally pay for a monument to the victims enslaved and murdered by Mercedes and Hugo Boss – companies which hugely profited from slavery and which have paid so much money to Lewis Hamilton
donate all the money he has taken from slave-owning and slave-murdering, fascist-supporting Mercedes and Hugo Boss to anti-slavery charities.
What do you say, Mr Hamilton?
(by the way, I have contacted many mainstream media newspapers and journalists with this story and none of them will touch it. I wonder why they are so reluctant? Is it because only black lives matter?)