(Friday/weekend blog)
Run rabbit run?
I'd like to start this blog with a comment made by a reader a couple of days ago:
It was fascinating yesterday to watch the youtube videos of hapless Plod being chased down Whitehall by hordes of primitives, astonished and terrified to discover that all the face-painting, all the fingernail-painting, all the ethnic dancing lessons at Notting Hill didn't protect them in the slightest from the savagery of thugs who not only hate the police and all they (allegedly) represent, but also despise Plod for their pathetic attempts to suck up to them.
And the entire concept of such useless, helpless Uni-graduate uniformed children being capable of the least kind of 'brutality' is so risible as to be utterly unworthy of consideration. Unfortunately. rioters don't have the slightest fear of the cops – they know only too well that they can get away with anything, without any consequences.
When the inevitable happens (and there are now a LOT of very angry citizens out there), then both useless Plod and equally useless politicians from all three clown parties would do well to keep themselves at a safe distance. Because we're pretty angry with those tossers as well, for the things that they've connived at.
Diversity or effectiveness?
Britain has one of the world's leading police forces – the Metropolitan Police. They lead the world in that great new god we must all now worship – Diversity.
The head of the Met police is the wonderful Cressida 'Dickless' Dick:
Cressida Dickless is a true symbol of diversity being both a woman and a lesbian. And one of her prime ambitions is to have half of all police officers female. That will be useful next time there's widespread left-wing, fascist rioting and looting.
The Met's Assistant Police Commissioner is Neil Basu. He's from a BAME background: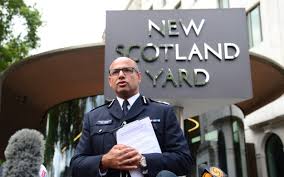 Yipee! More diversity!
Isn't it wonderful how diverse the Met police's leadership is?
Is all terrorism really right-wing, Mr Basu?
Neil Basu is quite outspoken about his views on policing, so let's spend a couple of minutes on the wit and wisdom of Assistant Commissioner Basu.
In 2019, Basu wrote an open letter about the role of the media and the Internet in influencing terrorism. In this letter, Basu (who was the UK's counter terrorism lead) mentioned just two terrorist attacks – the mosque shootings in New Zealand and the attack on Finsbury Park mosque in London. About the latter Basu wrote "The criminal responsible for the Finsbury Park attack in 2017 is a case in point, driven to an act of terror by far right messaging he found mostly on mainstream media, not even having to plumb the depths of social media or the dark web to find the material that ultimately radicalised him".
Both these attacks were carried out by white right-wing extremists against our friends from our favouritest religion. But in writing about terrorism, the great Basu saw no need to mention the London underground bombings, the Manchester Arena slaughter, the London Bridge attacks, the police officer murdered by a Muslim outside the Houses of Parliament, the Bow Market attack or any other terrorist attack carried out by our religion of wonderfulness friends.
I  think this more than slight omission shows where Commander Basu's sympathies lie?
Basu – taking the knee or taking the piss?
And now, following the latest London riots in which over 20 police officers were injured, Mr Basu has once again expressed his perceptive views. He said "Taking a knee was and is a powerful symbol of challenge and hope, and I was moved to see some of our officers do so":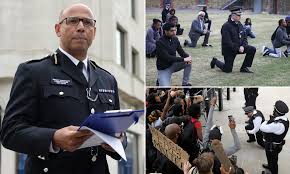 Of course, I'm not an experienced, politically-correct police boss like the impressive Commander Basu. But in my limited view, 'taking the knee' in front of a rioting mob is a sign of submission and subservience. The world would be quite a different place today if British troops 'took the knee' every time they were attacked by the Germans between 1939 and 1945.
I don't know if Basu is a genius or a liar or a fool. Though I have my suspicions about Mr Basu's competence or rather total lack of competence. But that's just my personal opinion. I'm sure there are many people who consider Mr Basu a policing mastermind with his new tactics which seem to consist of police first taking the knee when faced with violent, left-wing, fascist rioters and then running away in terror when the rioters don't hold the police's hands and all sing Kumbaya together.
Moreover, this week we saw results of our diverse police's cowering in surrender to criminals when the police hid away in safety as a statue in Bristol was being vandalised and when two policepersons got beaten up by a small group of thugs in London who filmed themselves laughing and shouting as they hit and kicked the Plods.
How did Dickless get her job?
As for Dickless Dick, I obviously have no idea whether Cressida Dickless is really the most effective policeperson in Britain, the policeperson who has nabbed the most criminals and solved the most complex cases. Though (if I remember correctly) she was the officer responsible for the shooting of an innocent Brazilian electrician whom the police mistook for a Middle Eastern terrorist.
Or perhaps Cressida climbed to her mighty position by sitting in meetings about diversity and inclusiveness and political correctness and all that useless crap?
Here (with apologies to Gilbert and Sullivan) is a song I wrote and put on YouTube celebrating the career of Britain' top cop. In the video I try to sum up the utter farce of Britain's ever so diverse and utterly useless policepersons. Enjoy: