(Thursday blog)
Black retired cop shot by looters – Black Lives Matter couldn't give a toss
I don't know how many readers will be familiar with the circumstances of David Dorn's death. David Dorn, aged 77, was a retired police captain in St Louis:
Following his retirement after 38 years on the force, he had been involved in local policing and community work. His wife, Ann Marie Dorn still works with the police.
David Dorn was shot dead Tuesday by looters who had broken into his friend's pawn shop. He was found dead on the sidewalk in front of Lee's Pawn & Jewelry in the early hours following unrest that followed a protest violent riot supposedly over the death of George Floyd in Minneapolis:
For the brave protesters cowardly looters a bit of second-hand jewelry and a few second-hand TVs stolen from a pawn shop were more important than the life of a decent black American citizen like David Dorn. That's why he was shot dead – so the brave protestors scumbag looters could steal mostly worthless rubbish from a pawn shop.
As far as I know, the BBC and C4 News and the Black LIves Matter protestors won't be mentioning the death of David Dorn. For the BBC and C4 News and the Back Lives Matter scum David Dorn's life was one black life that didn't matter at all.
The British broadcasters certainly won't mention President Trump's praise for black American retired policeman David Dorn as that doesn't fit the BBC's and C4 News's narrative of Trump being a racist: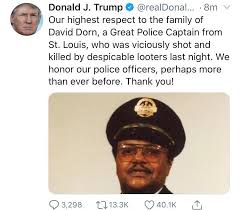 Aaahh, I got some stuff!!!!
The BBC and C4 News have been endlessly spinning the story of the George Floyd protests as being about noble, selfless, peaceful citizens standing up to racist police brutality. And every report from the US has been aimed at attacking Trump and trying to blame him for Floyd's death and the violence that followed.
But here's a longish report on the supposed 'protests' – many just violent looting – from Fox News. You just need to watch the first 6 to 7 minutes to see the reality of the supposed 'protests' that the BBC and C4 News won't show. Then you'll see why Trump wrote "When the looting starts, the shooting starts":
Here's a side to the peaceful protests violent rioting and looting the UK media have been 'surprisingly' reticent to mention: