(weekend blog)
I think we've been here before
Can you imagine a situation in which the world's leading supposed 'climate scientists' are predicting a global climate catastrophe which will result in tens of millions of deaths and then suddenly a new flu virus originates in China and becomes a pandemic spreading throughout the world infecting tens of millions and killing several million?
Oh, that's what's happening now. We have supposedly 'leading  scientists' doing a great shroud-waving act as they predict dire consequences for mankind due to Global Warming or Climate Change or Climate Emergency or Climate Breakdown or whatever it's called this month. Plus, of course, we have the wonderful Covid-19 Chinese plague pandemic which the Chinese, ably assisted by the ludicrously misnamed World Health Organisation, sent spreading around the world causing economic chaos and millions of deaths.
But by a curious coincidence, we seem to have had almost exactly the same situation about fifty years ago – in 1968/9.
Scientists' 1968/9 climate catastrophe predictions
In the late 1960s and throughout the 1970s, supposedly 'leading climatologists' (that may be an oxymoron) noticed a thickening of Arctic and Antarctic sea ice and a cooling of the Earth's climate. What was happening? Well, most of us would probably conclude that this was just part of a natural cycle of warming and cooling that the Earth has gone through for thousands of years: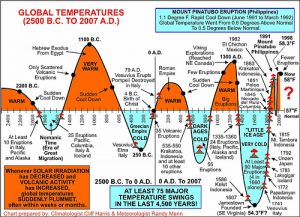 But such a simplistic conclusion was anathema to media-attention-hungry supposed 'scientists'. They couldn't wait thousands of years to get their few minutes of fame. So, out poured the 'doom and disaster' predictions and articles claiming we were heading into a new Ice Age: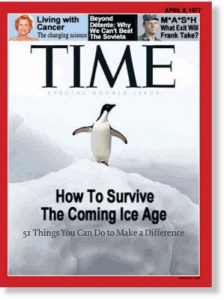 This new Ice Age, would, we were warned, devastate agriculture in the Northern Hemisphere and lead to mass starvation and a population flight towards the Equator as people tried to escape the deadly cold. More importantly, the 'scientists' got their moment of fame.
The 1968/9 Chinese virus pandemic
Also in 1968/9 we had a Chinese virus pandemic. It was called the 'Hong Kong flu' but actually (surprise surprise) originated on mainland China. The Hong Kong flu (also known as 1968 flu pandemic) was a flu pandemic whose outbreak in 1968 and 1969 killed an estimated one to four million people globally. It was caused by an H3N2 strain of the influenza A virus, descended from H2N2 through antigenic shift, a genetic process in which genes from multiple subtypes reassorted to form a new virus:
The 'R' of this flu was estimated at 1.80.
In Berlin, the excessive number of deaths led to corpses being stored in subway tunnels, and in West Germany, garbage collectors had to bury the dead due to insufficient undertakers. In total, East and West Germany registered 60,000 estimated deaths. In some areas of France, half the workforce was bedridden, and manufacturing suffered large disruptions due to absenteeism. And throughout the West people died as hospitals were overwhelmed by flu patients (sound familiar?):
The United States Centre for Disease Control and Prevention (CDC) estimated that in total, the virus killed one million people worldwide, from its beginning in July 1968 until the outbreak faded during the winter of 1969–70. Though other estimates have been as high as four million deaths worldwide. The CDC estimated that about 100,000 people died in the U.S; most excess deaths were in those 65 and older (sound familiar?). However, fewer people died during this pandemic than in previous pandemics for several reasons:
Some immunity against the N2 flu virus may have been retained in populations struck by the Asian Flu strains which had been circulating since 1957
The pandemic did not gain momentum until near the winter school holidays, thus limiting the infection spreading
Improved medical care gave vital support to the very ill
The availability of antibiotics that were more effective against secondary bacterial infections
So, what has changed in the last 50 years?
Given the extraordinary similarities between 1968/9 and 2019/20 one might wonder what has changed in the last fifty or so years. What has changed is us – the general public. Fifty years ago we largely ignored the self-promoting supposed 'scientists' screaming doom and gloom with their new Ice Age and just got on with our lives. Nobody was transformed into a scientifically-illiterate, self-indulgent idiot weeping and wailing about the imminent extinction of mankind.
As for the media, they soon got tired of the 'climate catastrophe' story and the new Ice Age somehow eventually turned into today's Global Warming scam. Moreover, just to highlight the farcical nature of the whole climate scam, one of the prime proponents of the new Ice Age theory, John P. Holdren, became (I believe) Saint Obama's key scientific adviser on supposed Global Warming.
Moreover, fifty years ago we largely accepted yet another Chinese plague pandemic as being just a normal part of life and got on with our lives regardless. We didn't shut down the whole economy and hide in our homes in (mostly media-induced?) terror.
It's odd that none of the mainstream media seems to have noticed the similarities between 1968/9 and today as they hyperventilate over supposedly 'catastrophic' Climate Change and 'catastrophic' Covid-19 as if these were 'unprecedented'. In fact, 'unprecedented' seems to be a favourite media word at the moment even though we were in almost exactly the same situation about half a century ago.
Here's the inimitable Tony Heller reminding us of what the mainstream media chooses to ignore – we've been here before. This is not 'unprecedented':