(Friday blog)
At first I tried watching the daily Downing Street briefings. But with all the lies and cover-ups and denials of reality by establishment political and medical pygmies, the briefings became so farcical that I just can't be bothered. In fact, the briefings are so painful to watch, I'm embarrassed to think that this might really be the best a once great country like Britain can offer.
Day after day after day, some schoolboy or other, pretending to be a politician, trots out the same old garbage – "we have a plan – we are following our plan – we are in control of the situation – we are guided by the science – etc etc". And to support them, the schoolboys (plus Priti Patel) drag along some supposed scientists or medical professionals to back up the Government's ludicrously dishonest claims that they haven't made a complete cluster-f**k of the Chinese Covid-19 plague.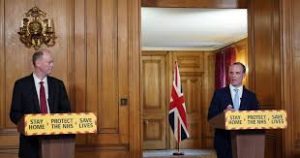 I admit that it's easy to be wise in hindsight. But anyway, here are a few things which our out-of-its-depth Government seems to have got right and wrong over the last couple of months:
What the Government got right:
Rapidly expanding the provision of critical care beds to handle the expected Covid-19 tsunami of patients
Err, um, I think that's about it.
What the Government got wrong:
Throwing possibly 15,000 hospital patients out into care homes or their own homes to free up hospital beds without testing them for the Chinese plague. Some of those who went to care homes carried the infection to those care homes. Some of those going back to their own homes were visited by carers once or twice a day and thus passed the infection on to those carers who then passed it on to other vulnerable and elderly people. Result – a considerable reduction in our country's pension bill
Believing the shock/horror projections of death rates from Professor Penis, the bonking boffin from Imperial College without looking at his past record of monumental exaggeration and failure from his model written in Fortran – a computer coding language that went out about the same time as the dinosaurs
Giving responsibility for organising testing to the useless over-paid, over-pensioned bureaucrats at Public Health England. Anyone who has ever worked with the British public sector will know that utter incompetence and avoidance of responsibility is widespread. In normal times, the uselessness of the British public sector isn't a great problem. But in times of crisis, when you need to get things done, the only way is to draft in someone from the private sector
Giving responsibility for procuring personal protective equipment (PPE) to the utterly useless, incompetent 421 NHS procurement managers whose salaries cost us taxpayers about £20m a year. To repeat the point above. In normal times, institutional incompetence just wastes tons of our money. But in a crisis, you cannot, repeat cannot, ever rely on public-sector bureaucrats to do anything other than sit on their arses passing paper around to fill out their days. I've had many meetings with public-sector procurement managers and………. I'll leave my experiences for another day
Not taking the Chinese Covid-19 plague seriously – we now all know that Boris Johnson didn't even bother turning up to the first five COBRA meetings about the plague
Filling the Government with lightweight nonentities. Desperate to get rid of any Europhiles, Johnson and Cummings relegated any possible ministers with any competence or gravitas to the backbenches and populated the Government with obedient but third-rate rubbish who were totally overwhelmed by the Chinese plague. For example, I suspect that Jeremy Hunt would have made a better job of the catastrophe than the flopping, floundering Hancock
Arrogant dismissal of anything done by 'Johnny Foreigner'. Taiwan, South Korea, Germany Thailand and other countries showed how to get the Chinese Covid-19 plague under control. Our Government ignored the lessons to be learnt from other countries and thus managed to achieve some of the highest Covid-19 deaths per million of population in the world.
Allowing flights from plague hotspots to continue to arrive in the UK without any checks or quarantines
And so on and so forth
But perhaps the Government's greatest mistake was to continuously deny having ever made any mistakes. I think people might have forgiven our weak, arse-covering politicians and supposed 'experts' if they just once admitted that they got some things wrong because of limited knowledge of the Covid-19 virus. But the daily, increasingly incredulous claims of our politicians and their lapdog lackeys to have done everything right according some great plan makes them into a confederacy of dunces and I suspect that, at the next election, they will not be forgiven for their incompetence and lies and will reap what they have sowed.
Prepare for Prime Minister Starmer.