(Friday blog)
Quite rightly, most of us have been impressed at how many front-line NHS workers are risking their lives working with Covid-19 Chinese plague victims, often in difficult conditions and often with insufficient personal protective equipment (PPE). And at least 20 NHS workers have lost their lives to the Chinese plague which accidentally leaked from a virus research laboratory in Wuhan.
Jumping on the 'angels and heroes' bandwagon?
But I'm beginning to become a little bit queasy at how the Social Care sector seems to be trying to jump on the healthcare NHS 'angels and heroes' bandwagon.
Daily in the media we see care home bosses bleating about not having sufficient PPE for their staff and not having support from the Government.
To be sure, caring for people with learning difficulties or with dementia is a pretty miserable and exhausting profession. I know because a member of my family works in care homes and in palliative care. The shifts are long, changing adult nappies or trying to calm down loads of crazy grannies or being asked to wank off horny but impotent grandads isn't most people's idea of a fun working environment. And few care homes pay a penny more than the minimum wage they can get away with.
Moreover, while some care homes provide two or three days training for their staff, others (especially care staff agencies) provide no training at all. Instead they just tell new recruits to watch a few training videos from companies like Social Care TV.
So, I've no doubt that front-line care home staff are doing an admirable job in difficult circumstances for pathetically small rewards.
Money, money, money?
But care homes aren't NHS hospitals. They are mostly privately-owned and privately-run and are in business to make a profit. As one report on the sector warned "Many care home operators are structured as private businesses, with complex ownerships, including individual or institutional investors, hidden from view".
Average care home costs for a patient with dementia can very from £30,000 a year for an absolute dump to £60,000 a year for a more top-of-the-range service: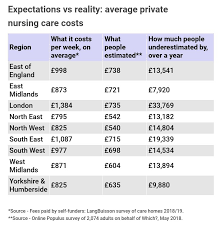 Let's just take one company I know a little about – we'll call it the LCG.
The LCG specialises in dementia care and owns four care homes – A****** (45 beds), B********* (72 beds), R********* (69 beds) and S****** (48 beds). That's 234 beds in total. At the last series of Care Quality Commission inspections, 208 of these 234 beds were occupied – an occupation rate of 88%.
The LCG positions itself as providing top-of-the-range living conditions. So let's assume that the LCG charges near top-of-the-range rates of say £55,000 a year. Then with 208 residents, the LCG is taking in £11.4m a year in fees. Specialist consultants in the care home business have calculated that the average care home profitability is around 8%, though industry sources suspect that profit margins are actually much higher due to a whole lot of mysterious extra charges.
But even if we stick with the 8% profitability, this would mean that the LCG is making profits of at least £900,000 a year for its owners. And there are many care home groups larger than the LCG
One might have thought that companies making this kind of money could afford to buy PPE for their own minimum-wage staff instead of bleating endlessly about how the Government is supposedly letting them down.