(Monday blog)
Bang, crash, wallop!
Wow! The new year 2020 certainly started with a bang! A bang when the vehicle carrying Iranian terror chief Qassem Soleimani and his goat-busting Iraqi chum got hit by a US Hellfire missile as did the following vehicle carrying the two Islamic heroes' bodyguards. As the mainstream Western media fulminates against Trump for supposedly escalating tensions in the worthless Middle East, here let's celebrate a great achievement.
It's amazing that the US knew exactly where Qassem Soleimani was, what plane he was travelling on and what time it would arrive in Baghdad: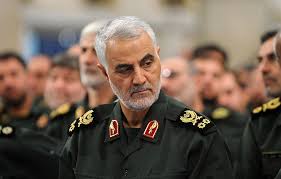 Maybe someone in Iran didn't like Mr Qassem Soleimani too much? It was even more amazing that the US drone could follow the convoy carrying Qassem Soleimani and other assorted lunatics and then accurately fire two missiles – one at Qassem Soleimani's vehicle and one at the bodyguards'. Brilliant! Absolutely brilliant!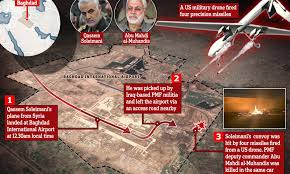 (Image from the Daily Mail online)
Iran's mad, trouble-making Mullahs will have to be a bit more careful when they make their next holiday plans. Otherwise a Hellfire missile might spoil their fun in the sun.
As for Qassem Soleimani, his Iraqi chum and their bodyguards – well they'll presumably be enjoying their 72 virgins: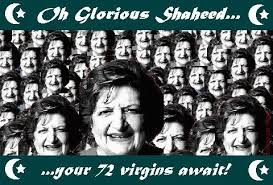 So they should give thanks to Trump for sending them to paradise.
Africa – millions more in misery
What else has happened while the blog has been on holiday?
Well, at least 4 million more Africans have been born into abject, crushing, hopeless poverty while African rulers continue to loot their countries of anything worth stealing and stash their billions in offshore tax havens.
For example, we've just learned that Isabel dos Santos, the daughter of Angola's president, is the owner of a rather attractive £13m property in London. But £13m is mere small change for Isabel dos Santos who has mysteriously amassed an estimated $2.3 billion fortune in the form of large shares in Angola's key industries, including cement, banking, telecoms, and diamonds while over 90% of sh*t-hole Angola's population live in poverty-stricken misery. Perhaps Oxfam and Save the Children and Unicef etc 'forgot' to tell you what really happens to all the billions we have been sending to Africa for the last 50+ years when demanding even more of your money?
So, expect plenty of appeals in 2020 from the likes of Oxfam, Save the Children, Unicef, Water Aid and so on for ever more of your cash to give to ever more starving Africans:
If Saint Greta the Gormless wants to save the planet, perhaps she could start promoting a crackdown on corruption and a programme of birth control in Africa before Africa destroys the world with its teeming billions