(Wednesday blog)
Today I'd like to introduce you to 21-year-old Sheareem Cookhorn and 18-year-old Tyrell Graham. Fine-looking chaps aren't they? And a huge benefit to our diverse, vibrant, multi-cultural society: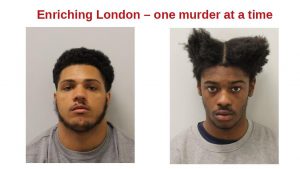 I don't remember which is which and really don't care. The thing I do care about is why these two (IMHO) utterly worthless pieces of sh*t were ever born in the first place.
These two pieces of garbage have just been convicted of murdering 19-year-old Kamali Gabbidon-Lynck (probably also a worthless excrement) and attempting to murder an unnamed 20-year-old (probably scum as well), with Cookhorn also convicted for possession of a firearm with intent. Three 17-year-olds, who cannot be named for legal reasons, were also convicted of murder for Gabbidon-Lynck's murder, and of section 18 grievous bodily harm in connection with the gang's second victim.
"On the night of the murder, the group of seven males, including the five defendants and two unknown individuals set off on bicycles… to search for suspected rival gang members," an official statement from the Metropolitan Police recalled.
"Such was their violent intent, that between the five defendants they carried at least five knives (including a machete and a small sword), a handgun and a shotgun," the statement continued, describing how Cookhorn opened fire on the victims and two others upon finding them in Lordship Lane near a Vue cinema complex."
Apparently the attack was due to what the police called a "postcode rivalry". I guess the scumbags were fighting over drug-dealing territory. After the attack, the attackers posted so-called "drill videos" boasting of their 'success'.
I imagine the grandparents of these pieces of trash came to Britain and worked in menial jobs maybe in factories or cleaning hospitals. Probably they were religious Christians who worked hard and tried to make a decent life for themselves and their families. But within just a couple of generations, in spite of having all the advantages of living in an advanced, Western democracy with things like free education and free healthcare, their families had only produced violent, low-IQ, socially-worthless pieces of sh*t.
Probably all these pieces of excrement went to school for ten years, learning absolutely nothing. Most likely they spent their school years doing everything they could to humiliate and destroy the education of those children who did actually want to learn and improve their lives.
This is apparently why our parents' and grandparents' generations fought in two world wars – so that those a cynic might consider to be Third-world faeces could pour into our once great country causing havoc and destroying everything they touched.
These scum seem to be the rule, rather than the exception, in the housing estates of London Mayor Khan's vibrant, diverse, multi-cultural paradise.
But I can assure you bruv, diversity ain't no strenf!
(and here, for those who haven't seen it is my Youtube video – Khan's Bloodsoaked Streets of London)